Sherlock Holmes Movie Trailer #3: Action Packed!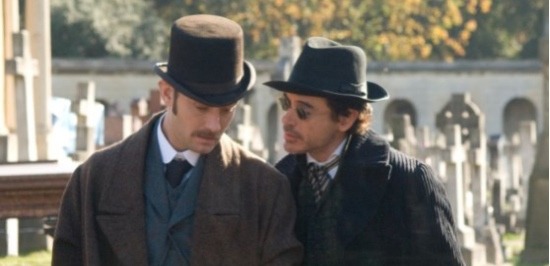 Warner Bros has released a thrid movie trailer for Guy Ritchie's Sherlock Holmes on MTV. The trailer is again the odd mix of stylistic action and slapstick-approaching comedy. This trailer definitely has more action packed between faster cuts and loud music, probably an attempt to appeal to the younger MTV demographic. The film looks like Ritchie's most accessible film to date. Watch the trailer embedded after the jump.
In a dynamic new portrayal of Sir Arthur Conan Doyle's most famous characters, "Sherlock Holmes" sends Holmes and his stalwart partner Watson on their latest challenge. Revealing fighting skills as lethal as his legendary intellect, Holmes will battle as never before to bring down a new nemesis and unravel a deadly plot that could destroy the country.
Watch the trailer in High Definiton on MTV. Sherlock Holmes hits theaters on December 25th 2009.