Adam Sandler Is Jack AND Jill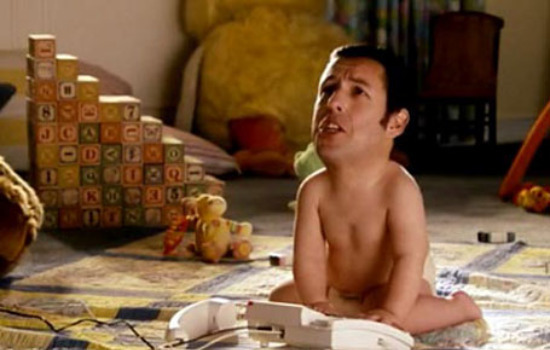 Oh Adam Sandler, has it really come to this? You've now sunk to cross-dressing for a paycheck? We've learned tonight that Sandler will star in the romantic comedy Jack and Jill, and he'll be playing both the titular Jack and his twin sister Jill. I'm assuming the romance isn't between the siblings—although that would probably make things a bit more interesting. Screenwriting duties come courtesy of Steven Koren (Evan Almighty, Click), which gives us an idea of where this film will land among Sandler's other films.
But perhaps I'm being too harsh. Without any other news to go on regarding this project, all I can really focus on is the fact that Adam Sandler will be playing his own twin sister. It could end up being a rare gem like The Wedding Singer—or even something not as good, but still enjoyable, like 50 First Dates. Quite honestly though, I haven't been a fan of any film written by Koren, and his name speaks volumes to me when hearing about any upcoming projects.
And let me be clear, it's not as if I'm opposed to Adam Sandler's wacky films. Like many, I loved his '90s stuff, including Billy Madison and Happy Gilmore. But while those movies were a bit stupid, but mostly fun, I'm finding more and more that his recent wacky comedies have weighed more on the stupid side of things.
I'll hope for the best with this project, but I'd like to see Sandler join up in another Apatow film, or team up with a new group of comedic talent. I wouldn't even mind more dramas from the guy. I'd just like to hear of more projects from him that don't make me instantly roll my eyes.