The First 8-Minutes Of ABC's V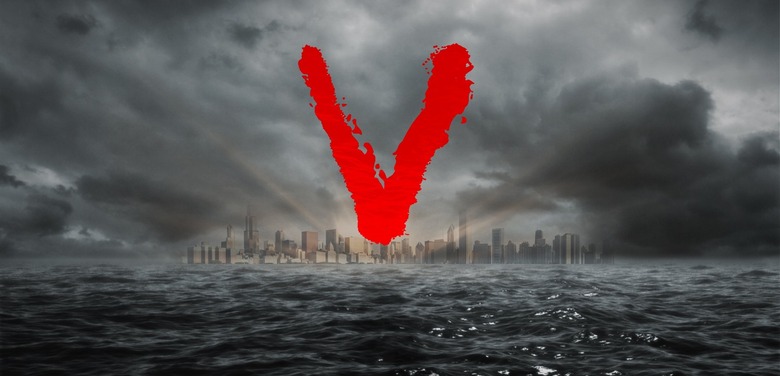 ABC has released the first 8-minutes of the new series V, which premieres on Tuesday, November 3rd at 8:00pm ET/PT. For those who don't know, V is a re-imagining of the 1980s miniseries about the world's first encounter with an alien race.
Simultaneously appearing over every major city in the world, the Visitors (or V's) promote a message of peace. Through their generous offer to share advanced technology, the V's build a following that may actually hide a more malevolent agenda, one that twists a very deep component of human nature — devotion. While the world quickly becomes fascinated with the V's and their link to wonders just beyond the reach of human understanding, FBI Counter Terrorist Agent Erica Evans (Elizabeth Mitchell) discovers a secret hidden beneath the skin of every V – a secret that may threaten the lives of everyone close to her. Yet for her teenage son, Tyler (Logan Huffman), the V's are his ticket to something big and hopeful-a new chance for mankind to unite in common goals. To Chad Decker (Scott Wolf), a career-hungry news anchor, his exclusive interview with Anna (Morena Baccarin), the leader of the V's, is crucial to his dominating the airwaves. Also unsure about the Visitors is Father Jack (Joel Gretsch), a priest questioning his faith in the wake of the Visitors' arrival. Seeking answers outside the church, Father Jack discovers there are other dissidents who believe the Visitors are not who they say they are, including Ryan Nichols (Morris Chestnut), who is faced with his own life-altering decision when the V's show up. Never has there been more at stake — it truly is the dawning of a new day. "V" also stars Lourdes Benedicto as Ryan's fianc'e, Valerie, and Laura Vandervoort as Lisa, an alluring Visitor who sets her sights on Tyler.
Watch the first 8-minutes of V embedded after the jump.
source: thrfeed