Akiva Goldsman Wants To Direct Mark Helprin's Winter's Tale, Talks Lobo And Swamp Thing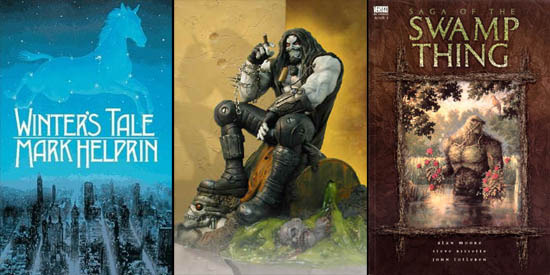 Hollywood loves Akiva Goldsman. No surprise. He's a geek at heart, and these days geeks make money. He's able to marry that sensibility with an approach that brings in adult audiences (The Da Vinci Code) and even wins awards (A Beautiful Mind). And yet a lot of us have a real mistrust of the writer, not even thanks to his credit on the execrable Batman and Robin, but for being the driving force behind turds like I Am Legend and I, Robot. Now Goldsman is ready to move into his next venture, directing, and he's got a project in mind, and a few big comic book properties already on his plate.
Winter's Tale, the novel by Mark Helprin, is the story Goldsman is eyeing to direct. The LA Times reports that the 1983 novel set in an alternate New York is the writer/producer's favorite novel. Winter's Tale has a strange similarity to A Beautiful Mind, too: one character is a young girl who is able to speak directly to and understand the universe through equations, like a magical realist version of John Nash's deteriorating mental state.
Goldsman also mentions Lobo, and says that he and director Guy Ritchie almost have the character design set. They'll shoot a test scene next month, then move forward with casting. "There's something hyperbolic and authentic about a Guy Ritchie movie," Goldsman says. "His best movie are deeply, deeply  stylized yet they are all grounded; there's a grit of stylization, which sounds like an oxymoron but it makes perfect sense when you've seen his films."
Finally, the article mentions Swamp Thing, which had been brought up recently by Joel Silver as a project he wanted to move forward with. We don't know Silver's involvement at this point, but the article goes so far as to namedrop Alan Moore not only as a touchstone for the character, but a goal for the filmmakers. "We want a film with real Southern, dark horror overtones, a little bit like a classic Universal horror film," Goldsman says of the possible Swamp Thing film. Which, taken on its own, is a statement that brings me some little bit of hope. If I had any confidence in Goldsman at all, that would mean something.