What Is Your Favorite Movie Scene?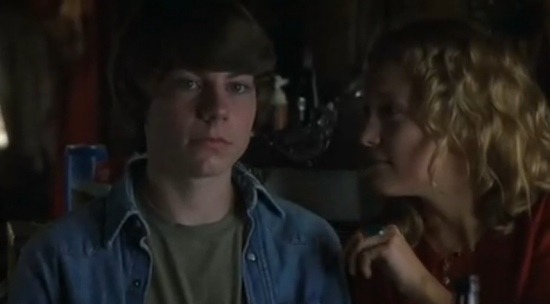 Something I've been thinking about a lot lately is favorite movie scenes. One night while hanging out at Film School Rejects headquarters (where I was crashing for Fantastic Fest), FSR sexpert Bethany Perryman showed me her favorite movie scene of all time on YouTube. The scene involved a monologue in a congressional hearing, but that's really not important. I realized while I was watching the sequence, something not about the movie but about the presenter. Movies can be an extremely personal experience, and while we don't really even think about it, someone's favorite scene says as much about a person as their favorite song or poem. I guess that is true of anything artful that is someone's favorite. But for some reason or another, I had never thought about how this applies to someone's favorite scene.
At Fantastic Fest, they have this awesome event called 100 Best Kills where people bring in DVDs, blu-rays, and VHS tapes of their favorite horror movie kills, which are played on screen for all to see. And most everyone knows, the kills are the best parts of most horror movies anyways. So it's basically two hours of awesome. I was thinking about how I'd love to see the 100 Best Kills concept done with favorite scenes, but I'm not sure that it would be quite as interesting if you didn't know the presenter of each clip. I started to think about my favorite scene of all time, why I connect with it and what this might say about me (you can read about my favorite scene after the jump).
Discuss: What is your favorite scene and why? What does it mean to you? Does it say anything about you?
My favorite scene of all time is a sequence in Cameron Crowe's Almost Famous. After a huge fight. Russell Hammond (Billy Crudup), stormed out on his band, and drags underage Rolling Stone Magazine reporter William Miller (Patrick Fugit) to a random house party, where he gets high, dives off the top of a house, and accuses Miller, who just wants to go home at this point, of being undercover policeman. The band manager shows up, and is somehow able to convince Russell to get back on the bus, and go to the next tour date. Everyone is utterly pissed at each other, unwilling to talk or say anything.
Elton John's song Tiny Dancer comes on the radio, and slowly, through the power of music, everyone is able to reconnect through song. William looks over at Penny Lane (Kate Hudson), one of the band's groupies with whom he's become close friends with, and says "I have to go home..." and Lane responds "you are home." You can watch the scene embedded below:
I can't tell you why I connect with this scene so much. Some friends have suggested that it's because a travel a lot as part of my job and can relate to being at home on the road (and yes, I can). But This was my favorite scene well before I ever wrote one sentence on a film blog, or traveled many miles from Film Fest to Comic Con. I'm not a music person, or at least not a concert person. I know nothing about riding a tour bus or being in a band. I don't even particularly like Elton John. But for one reason or another I connect with this scene, more than any other scene in any movie I've ever seen. And I believe this scene says something about my spirit, about my person, even though I might not understand why and can't quite put it into words.
Yesterday, I put the question out on Twitter: What is your favorite movie scene of all time? Some of the scenes were just funny lines or bad ass sequences from favorite films, but most of the responses were much more than that — usually involving either monologues, a moment of cinematic happiness, and more times than not, connected to a song or piece of musical score. I've included some of the responses below, but I would like to hear more.
Discuss: What is your favorite scene and why? What does it mean to you? Does it say anything about you?RhettReese @slashfilm The last ten minutes of Field of Dreams.nemoy16 @slashfilm "Where is My Mind" scene from Fight Clubezgoo @slashfilm the first time the Wonders hear their song playing on the radio in "That Thing You Do" Always gives me chills.leezachariah @slashfilm Gene Kelly and Cyd Charise in the Singin' In The Rain dream sequence. It's sublime.Brotodeau @slashfilm When Mark professes his love for Juliet via cue cards in Love Actually. When Aragorn tells the hobbits that they bow to no man at the end of Return of the King. The President's speech in Independence Day. The sex scene in the library in Atonement. And the one-shot on the beach in Atonement, also. The snippet of a moment in Harry Potter/Order of t/Phoenix when Hermione laughs hysterically with Harry and Ron around the fire. When Indy and his dad are tied up together in The Last Crusade.EricVespe @slashfilm Hard to say. Changes with my mood. But the Indianapolis Speech in Jaws is a safe betmorenojoblo @slashfilm The scene in Unbreakable when Bruce Willis slides the newspaper to his son. No dialogue. Love it. The drug deal scene at Raji's in Boogie Nightsiesb @slashfilm New Hope..Luke looking at the twin suns on TatooineCraveOnline @slashfilm Blade Runner – Rick Deckard and Gaff heading to see Bryant in the Spinner. The last minute of Fight Club. Great visuals and use of the Pixies song, "Where is my mind".elguapo1 @slashfilm Lightcycle sequence in Tron tied with Chevy Chase talking to the dept. store girl in Christmas Vacation.ldmullen @slashfilm I don't about all time, but that last shot from Godfather where Keaton's leaving the room as ppl greet Michael as Don is amazingJHoffman6 @slashfilm The pre-title sequence of Raising Arizona.bdkreviews @RhettReese @slashfilm obviously it has tobe Walken/Hopper scene in TRUE ROMANCE or the slow- mo zombie scene set to Metallica in Zombielanddbldn @slashfilm Are you gonna bark all day lil doggie or are you gonna bite?filthysize @slashfilm Maybe the kiss montage in CINEMA PARADISO? Does that count as a scene? If not, then the teahouse shootout in HARD BOILED. it's either lots of kissing or lots of killing for me.R0BTRAIN @slashfilm "You've got me? Whose got you?" from Superman.nitroslick @slashfilm Mine is probably the "Sounds of Silence" montage sequence in THE GRADUATE.jarodvhale @slashfilm or the final 'theft' scene in the remake of the Thomas Crown Affair. #favoritesceneinmoviejp_makeanimals @slashfilm In Hoosiers, right before the big game: "Let's win this one for all the small schools that never had a chance to get here"Twiggystar RT @slashfilm: What's your favorite movie scene of all time? Mine's the end of Fight Club, everytime I see it, I get all fuzzy n warm insideQueenBee31 @slashfilm wow, that is a really great choice! Mine would be the swimming sequence in Gattaca with Anton and Vincent as adultssean_815 @slashfilm It's gotta be the "Wise Up" singalong in "Magnolia."GermainLussier @slashfilm Long Way Down (One Last Thing) in Boogie Nights is my fave movie scene ever.Everything that happens in Alfred Molina's apartmentmiroslab @slashfilm The "Mark it zero" sequence in the Coen brothers' The Big Lebowski. John Goodman is total genius in that scene.jayoaks @slashfilm WALL-E Dancing Scene; Title song of SINGIN' IN THE RAIN; Silence, then violence in the end of CHILDREN OF MENAlexSchollar @slashfilm the ending scene of lost in translationdreamindemon @slashfilm Way too many to choose from, but the Quint's speech about the Indianapolis in Jaws still one of my favorites to this day.lawlorkyle @slashfilm gonna have to go with Hot Rod and Daniels run to lookout mountain from The Transformers: The Movie. Who doesn't love Stan Bush!quilty @slashfilm Batman Begins – when Bruce Wayne discovers the bat cave and faces his fears when the bats pour in, matched with Zimmer's score. ...gives me the chills everytime I watch it.violenzafumetto @slashfilm The scene at Rahad Jackson's (Alfred Molina) in Boogie Nights is up there for me.waywardsouls @slashfilm the first 17 minutes of "there will be blood". Genius.saymayday What's your fav movie scene of all time? (via @slashfilm) Natural Born Killers when Robert Downey Jr. interviews Mickey! Do you feel me?!Johnbo01 @slashfilm Absolutely the piano shop scene from Once.RaulCelis @slashfilm For me, It's the second interview between the Frances McDormand and William H. Macy characters at the office in 'Fargo'.TheSickness83 @slashfilm Make 'Em Laugh in Singin' in the Rain and the Cuckoo Clock speech in the Third Man.wingrove @slashfilm toy story 2 'when she loved me' flashback, Rutgers rooftop soliloquy fr Blade Runner, Notting hill 'ain't no sunshine' timelapseomgtehdavezorz @slashfilm Same scene, same movie. The whole thing is beautiful, and I get shivers down my spine every time she says, "You are home."leo1973 @slashfilm Fav Scene: Grandpa finds beached whales while granddaughter does school play in "Whale Rider". Music, cinematography & edit =A+gage006 @slashfilm "Don't Stop Me Now" bar scene in Shaun of the Dead.MattLPoole @slashfilm The Devil's Rejects freebird shootout.djsountrak @slashfilm The Crow: transformation scene (feat soundtrack by the Cure) – wow.standardman @slashfilm Once Upon a Time in The West, the opening. It builds so well.SnakeyJake @slashfilm an even better scene is the plane turbulence scene in 'Almost Famous'seanoneill @slashfilm The intro to Up was a movie experience unlike any I have ever seen b4, struck a cord with me.BeyondE @slashfilm The sequence in Brick, when Brendan Frye is chased through his school . @rcjohnsoctplante "He Needs Me" in Punch Drunk Love RT @slashfilm What is your favorite movie scene of all time?flawbot @slashfilm mine is from Almost Famous too! The "ask me again?" scene.JayJudah @slashfilm the museum montage from Ferris Bueller's Day Offmat_harris @slashfilm I'd have to say my fav is the end submarine scene in The Life Aquatic with Sigur Rós playing in the background.BigDumbMale @slashfilm My choice is the "do you think I'm funny" scene in GOODFELLASCarterNixon @slashfilm i have two. Rupert Pupkin showing up at Jerry langfords house in king of comedy and the opening scene of star wars.