A Nightmare On Elm Street Teaser Trailer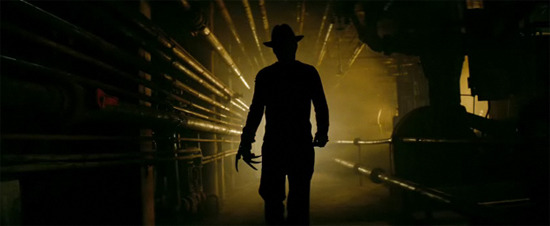 The teaser trailer for the new version of A Nightmare on Elm Street has finally been released, and it shows off Jackie Earle Haley in all his pre- and post-burn glory as the new Freddy Krueger.
Those in Hall H for the Warner Bros. presentation at Comic Con this summer saw a teaser very very similar to this one. (Here's a video reaction, and David's writeup.) Perhaps even the exact same thing, though I think there are a few small differences and additions. From what I've seen so far, the hook here is definitely Haley; I love his screen presence and am curious to see what he can do to make Krueger his own. The makeup is certainly different, as the last shot reveals, and his dialogue shows that the jokey old Krueger is shelved in a dark corner of Platinum Dunes' basement. (In that respect, not necessarily a bad thing; I could never get into the wisecracking killer Krueger became.)
The rest of the thing, though...what I'm afraid of is that there isn't much imagination to the dreamscapes. This is a movie about nightmares, dammit, and there's leeway to do anything at all. Some of the previous films in the Elm Street serious have been silly as hell, but the standouts at least went out on a limb to present some wild, horrific dreams. I hope there's a lot more here than snow (or ash?) in a bedroom, creepy little Shining girls and a couple of visual callbacks to kills in previous films in the series. Is there anything to match Freddy slicing up a kid's limbs and then using tendons to puppeteer him to his death? I hope so.
Music video director Samuel Bayer is making his feature debut with this remake. He's got a long resume working for bands and music labels, but Platinum Dunes producers Brad Fuller and Andrew Form have obviously exerted significant influence, as this definitely bears the visual stamp of all the other Platinum Dunes films.