Find Legal Online Movies With Speedcine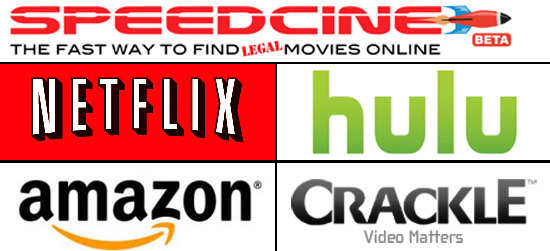 I was talking with a friend the other day about how my appetite for owning stuff had dramatically decreased in the past few years. While I once was very happy with my large VHS and DVD collection, at this point I'm just as happy to get rid of most of my physical copies of films. In part that's because so much is available legally online, in ever-better quality. I've seen a few sites that attempt to catalog what is available to stream, rent and buy digitally online, and there's a new player called SpeedCine. The site's interface is basic, but it works fast and clearly tells you where a film is available online.
SpeedCine essentially indexes films from sites like Netflix, Hulu, Crackle, Amazon and others. It is a searchable database; type in the name of a film and SpeedCine will quickly spit out options for free streaming (like Hulu), online rental, online purchase and subscription streaming options like Netflix.
The interface is pretty bare-bones right now. There's an alphabetical index of all films, and the searchable database. The site is in beta, and hopefully they'll be rolling out additional features like a new additions tab and a deeper set of database tags so that from one result you can quickly search related films.
There's a lot to learn from InstantWatcher, the site that exhaustively catalogs everything available to stream on Netflix that I use on almost a daily basis. Since films available online may only be licensed for streaming or rental for a specific time, SpeedCine would be more useful if it presented that information. (InstantWatcher does: go to any movie page and the amount of time it will be available for streaming on Netflix is clearly stated.)
The other limitation with SpeedCine is international options — much of what is available on sites like Hulu can't be viewed outside the US for licensing reasons. SpeedCine knows this, and is working on building a parallel international database, but it isn't up yet.
With those caveats, I like SpeedCine quite a bit. I wanted to revisit The Talented Mr Ripley the other day, and I could quickly tell that it wasn't available on Netflix, but SpeedCine could have given me a one-stop pointer to other options. I'll keep using this one, and hope they can push the beta forward and add more features in the coming months. Check it out; I expect some of you will find it really useful.
[via John August]