Pee-Wee Herman Returns With A Twitter Account...and A Jay Leno Interview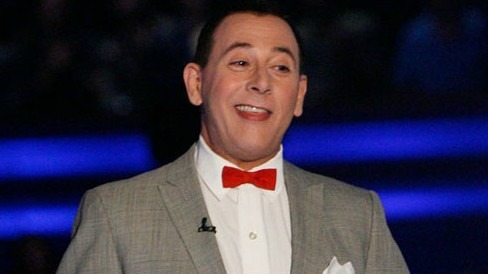 Last night, to the surprise of many, "Pee-wee Herman" began trending on Twitter only a few hours after new account for the character launched on the social network: @peeweeherman (it has just been verified as legit). Earlier this year, Peter posted about a limited engagement at Hollywood's The Music Box in November marking the official return of Pee-wee Herman (actor Paul Reubens) to his subversive stage roots with The Pee-Wee Herman Show. Tickets have long since sold out. But the first real test regarding relevance, nostalgia, and the bottling of curious man-child magic arrived last night. And what worse place for Pee-wee to giggle coyly and crack abstinence jokes than on The Jay Leno Show? His awkward interview with The Prolonged Chin and a few thoughts after the jump...
My first impression is that Jay Leno still looks and sounds like a Dick Tracy villain and needs to be put down. Moreover, Pee-wee is definitely a little creepier with the current age and weight on him. And unlike, say Mike Judge with the recent return of Beavis & Butt-Head, Reubens appears to have a fair amount of trouble hitting Pee-wee's signature, zany high pitched notes. At times, it's as if Reubens is flittering in and out of a once contagious split-personality. Most the childhood stories are confusing and seem unprepared because of this.
That said, it's fitting that Pee-wee would return after fifteen years (...where was he? is a fun game) still wearing his red bow tie but worse for wear amidst an economic depression and multiple wars. Jay Leno's new audience—apparently it doesn't consist of happy children born to Tonight Show staff—sounds middling and uncomfortable, as if they want to laugh more but can't. Probably not unlike Leno's wife. If Reubens is indeed going ahead with Pee-wee's Playhouse: The Movie—still listed on iMDb for a 2011 release—he'll need to be much more convincing. Otherwise, why taint the legacy if Eminem can do the laugh better than the original genius himself?
Laughing Squid has made a video of Pee-wee sending out his first Tweet yesterday at a dotcom launch party. Reubens and his team still seem aware of how to get attention, but I wonder how modern day connectivity will impact his plan to play a Pee-wee that caters to adults as well as the more familiar, sugary version for children.