The Unlikely Art Director Behind Spike Jonze's Where The Wild Things Are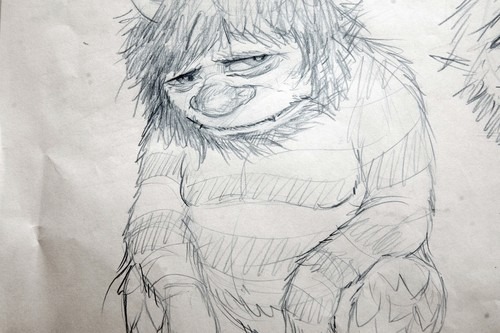 As viewers and the media gear up for next month's release of Spike Jonze's Where the Wild Things Are, we expect to read more articles and essays waxing on the film's relevance and meaning in pop culture. To me, the project already represents the ideal and inevitable amalgamation of two of the more important, influential, and cynic-exhausted youth subcultures of the aughts: the geeks (as ushered in by Ain't It Cool) and the hipsters (as ushered in by Vice magazine). As the pioneers and personalities behind these still-crystallizing cultures enter their 30s and 40s, parenthood awaits and so does the desire to help shape the next generation in style, curated nostalgia, and matters of refined taste.
Realizing that members of '00s bands like the Yeah Yeah Yeahs and Liars have left art-damaged fingerprints on what is possibly one of the definitive and more magical family films (of all time?) is both a secure and wild sign of the future. Another unlikely, lesser known contributor to WTWTA (and friend of Liars) is Sonny Gerasimowicz, a street artist off Hollywood's radar who was hired by Jonze to bring Maurice Sendak's Things to the screen.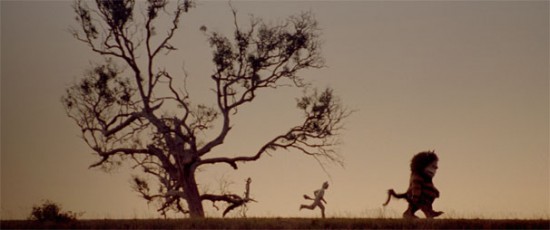 Unfortunately, the LAT didn't offer any of his "scores" of drawings for me to lift here sans the header image, but if you're interested in seeing other work by Gerasimowicz, he directed the kitten-accessorized video, "Houseclouds," for Liars, and goes by the graffiti alias COAX AWR. I've posted a few of his works as COAX below via Guerilla One...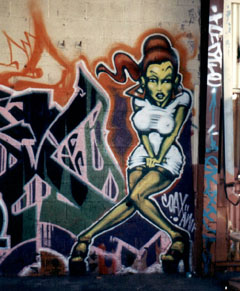 According to Gerasimowicz, he wasn't as concerned with recapturing Sendak's style to a T as expanding on and cultivating the emotions of the creatures, which Jonze acted out for him in the early stages (anyone have a copy of this on tape?). While earning his sole movie credit on the film, Gerasimowicz found himself giving advice to the Jim Henson Company, which was in charge of actually making the live-action creature suits based on his, Jonze's, and Sendak's imput. From the sound of things, a lot of Jonze's anxiety (manifesting in the resulted delays) rubbed off on him as well, once the conundrum of animating the faces became a reality. In fact, Gerasimowicz found himself replacing another actor and stepping into a creature suit to play "the role of Alexander, a small, snarky goat in the film," as seen here and voiced in the film by Paul Dano. The lesson: Never underestimate the power of a doodle on a bar napkin.