Troubled Projects: Warner Brothers Pulls Out Of Masters Of The Universe; Point Break 2 Is Dead?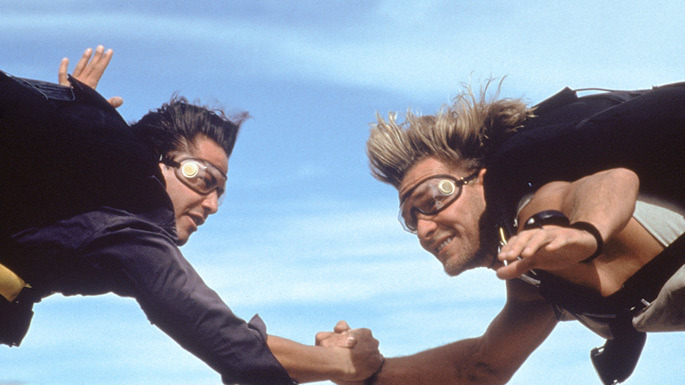 We've recently received word that a couple of productions have hit some pretty major road bumps. First up, according to Variety, Warner Brothers has pulled out of the Masters of the Universe project. Universe has had a pretty troubled history all around: When a script review for Justin Marks Grayskull: Masters of the Universe script first hit the web over a year ago, there was much rejoicing. Peter even wrote  about five reasons why Marks' live action He-Man might be cool.
Shortly afterwards, we learned that the project was basically dead, before it was resurrected with Kung Fu Panda director John Stevenson at the helm, along with producer Joel Silver. Now, Variety says, it turns out that "Mattel and WB didn't see eye to eye over the direction of the project and made a mutual decision to let the option lapse this month." Mattel is expected to shop the property elsewhere with Stevenson still attached. If I had to guess though, I'd say they won't have the easiest time of it; in this economy, studios want sure bets, and a big expensive action/adventure flick based on a moribund property with a fairly unproven director could be a huge risk. Box office wise, you could either end up with Transformers, or Land of the Lost, and I might even lean more towards the latter possibility in this case.
Meanwhile over at Moviehole (via Latino Review), Clint Morris has uncovered evidence from two "as-good-as-official sources" that the sequel to Point Break 2, titled Point Break Indo is as good as dead. The film was first greenlit way back in 2007 and was supposed to start filming in mid-2008. The cast for the sequel has been told they can seek out other projects while development is sorted out, which might not ever happen.
I was never crazy about seeing a sequel to Point Break. It always seemed unlikely that the original cast would return, and it was the direction of Hurt Locker director Kathryn Bigelow that really made the first film such a thrill ride anyway. Bigelow, of course, has gone on to other things. I was, however, surprised that she didn't seem to mind a sequel might be made when I asked her her about it a few months ago. In any case, at this point, it looks like we won't have to see her action classic retread after all.