VOTD: Between Two Ferns With Zach Galifianakis And Charlize Theron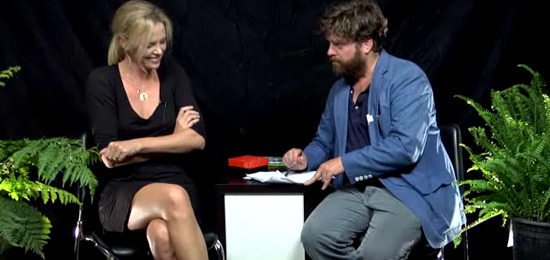 One of the best web series going is the talk show parody Between Two Ferns, which features Zach Galifianakis as a selfish, boorish host of a cable celebrity talk show. He's speared guests like Jon Hamm, Jimmy Kimmel and Natalie Portman in the past, and now talks to Charlize Theron. But Charlize isn't fazed by the Galifianakis persona in the same way his guests have been in the past, and the results are some of the most hilarious the series has to offer.
Funny or Die hosts the show, and this episode might be my favorite. It has a couple of the biggest, easiest jokes, sure, but the sheer crushed disappointment on the face of Galifianakis as Theron turns the power balance around is delicious. The show is always meant to be uncomfortable, but usually it's the guest squirming. Nice change of pace this time. This episode, the sixth in the series, isn't quite as intentionally low-rent as the first couple, which had a great washed-out, cable access look. But the script is perfect.