Gina Carano To Star In Knockout, Soderbergh's Spy Adventure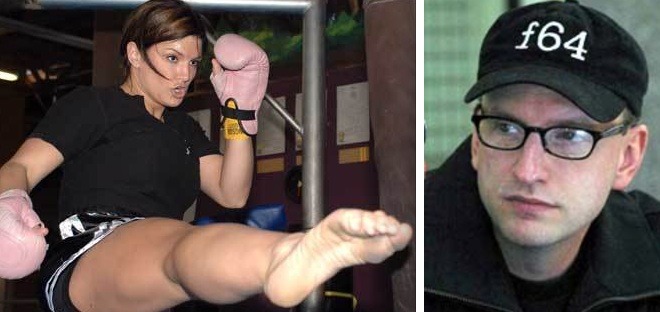 The mixed martial arts fighter Gina Carano is to make her big screen starring debut in Steven Soderbergh's Knockout, a spy drama he's comparing to James Bond but also sounds to me a little like Luc Besson's Nikita. Described by producer Ryan Kavanaugh as "mainstream action film with universal appeal for a reasonable budget" this picture sounds like heaven on a slice of warm toast.
The screenplay for Knockout has been written by Lem Dobbs, who had a hand in writing Dark City and was previously responsible for scripting Soderbergh's The Limey and Kafka, as well as Edward Ford, reputedly one of the great unproduced screenplays of all time. The boy can write.According to Variety, Soderbergh will be filming in the New Year, with locations in the US, Ireland and Turkey – at least. This sounds like it could be a proper, square-on-the-nose spy caper. Here's hoping he gets at least one wink to Fathom in there. Gotta love those Leslie Martinson/Lorenzo Semple Jr. team ups.Gina Carano has no actual acting experience (this is never any trouble for Soderbergh: see Bubble, perhaps even The Girlfriend Experience or, if you're feeling cheeky, Erin Brockovich too) but she was in the documentary film Ring Girls, about a group of female martial artists from the US competing in Thailand, and appeared as Crush on American Gladiators.To ballast the film, the supporting roles are apparently set to be filled with 'name actors'. I'd imagine we'll also be seeing a few more martial arts capable players because Carano is going to need somebody to beat up on.All the Variety report tells us about the plot as that the lead character is "a girl from the wrong side of the tracks who is given a second chance to use her skills for constructive purposes." That's where the Nikita element comes in nice and clear.
I've definitely read a quote or two from Matt Damon before in which he claimed that Soderbergh once turned down a Bond movie because he wasn't given creative control (read: sufficient creative control). Looks like he's now getting a crack at remixing the formula anyway and the Brocolli's loss is our gain.