Halloween 3D Slated For Summer 2010 Without Rob Zombie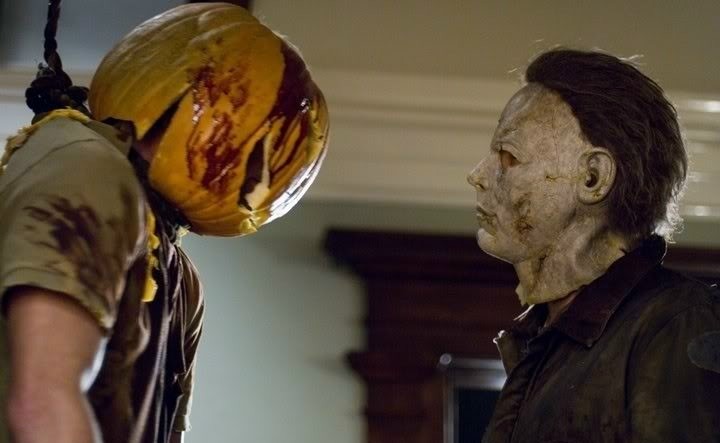 Over the weekend, the conclusion to Rob Zombie's fresh take on the franchise, Halloween II, grossed $17 million. Budgeted at $15 million, the sequel would likely have grossed much more if not for direct competition with the weekend's top movie and debut, The Final Destination 3D (a very healthy $28m). Today, the rebounding Weinstein Company announced a new, eleventh installment that is already in the planning stages. Entitled, not-so-curiously, Halloween 3D, it's slated for release next summer.
According to the LA Times, Dimension's Bob Weinstein offered that Zombie would not be back, as expected per his upcoming The Blob, and that a new director is in talks, one with experience in horror and a "different take" on Michael Myers. Note: /Film commenter, DrChicago, guesses that Alexandre Aja (High Tension) may be the director in line to take over the franchise. This is a great guess because Aja is currently finishing up Piranha 3D for Dimension and is not officially booked for another project; then again, Piranha is due April '10, so would Aja really have two 3D horror films from the same studio released so close together?
In lieu of generally poor reviews and unjustified vitriol from critics for Halloween II, this writer is predictably quite curious to see how these same critics react, both to the news of an unrelated follow-up and to the 2010 film itself. Similar to Frankenstein, Dracula, and hell, even the Blob, new films featuring Michael Myers, an iconic monster of modern horror, will always be on the way. As an enthusiast of horror, personally I'm fine with that. I also chalk this reality off to why I prefer watching new entries written and directed by a talented and cool genre auteur like Rob Zombie; a filmmaker who actually took the time to deconstruct and reconstruct the franchise's mythos, characters, and ignore its reputation for C-list talent (by casting Brad Dourif, Malcolm McDowell, and Weird Al). For once, audiences were required to think about Michael Myers, about why—post Carpenter's original—he remains scary, and the character's murky line between spectre, zombie, and serial killer.
Whether one disliked or even detested Zombie's vision(s), he forever contributed two films to a series that had come to possess all the definition of a dark, dead-end alley in the worst way. With nowhere else to go but retread that tired path, Zombie instead took a risk and placed the identity of Myers—a far more dubious horror icon compared to Jason Voorhees and Freddy Krueger—and his sister's front-and-center. And, in retrospect, I think it will come to be seen as natural that, arguably, the only working American director whose face/image is synonymous with American horror got a shot; nay, wanted two shots at Myers.
Now that his versions have ridden the white horse into horror history, who would you like to see direct Halloween 3D? Moreover, what American horror director(s) do you find superior to Rob Zombie, with the exception of Sam Raimi, who tends to venture outside the genre? Producer Akkad previously expressed, "...obviously Halloween, and Michael Myers, is a very American horror icon. And Rob gets that." This was in response to a question about the involvement of Alexandre Bustillo and Julien Maury, the French directors of Inside, who were originally slated for Halloween II. He added, "And these guys were French, so there was something lost in translation somehow," half in jest. That said, is there a foreign director(s) you'd rather see take over in 3D?