Patton Oswalt Explains His Caprica Character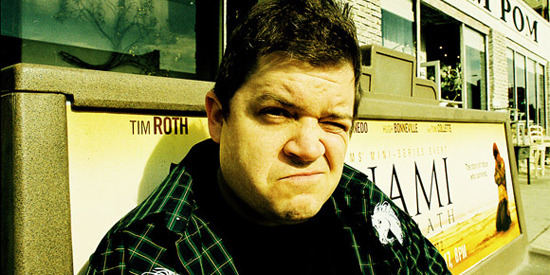 The AV Club has a brilliant and rather long interview with Patton Oswalt this week, to celebrate the comic's new CD/DVD My Weakness is Strong. (Which is worth celebrating; it's a great set.) The interview is worth your time if you have any interest in Oswalt and the art of stand-up comedy in general, but it also has a good tidbit of info that expands what we know about his role on the Battlestar Galactica spin-off Caprica.
We already knew that Oswalt would be "Baxter Sarno, a popular comedian who gets Cylon creator Daniel Greystone (and wife) on his talk show," as Devindra recently reported. Here's what Oswalt has to say about the job, which evidently came to him on a Tuesday and had him on set just two days later.
I shot all of the talk-show scenes, and we're going to go back next week to do a lot of monologue stuff. I'm just going to be a sort of Jon Stewart-esque presence that's always going to be on television in the background. I think that's going to be the role I have, though there's a big confrontation I have with Eric Stoltz and Paula Malcomson.
So Oswalt's 'recurring role' sounds like a win-win situation. He does a relatively non-invasive few days worth of work and we get to see that work spread out over a period of time.
I've become a big Oswalt fan over the last couple years. His stand-up is consistently excellent (read the interview for his conversation about writing and refining his material) but he's also turned out to be quite a good character actor. He surprised me in Ratatouille, and is fairly wonderful in Big Fan. (See our exclusive clip here, and read Peter's Sundance review.) I hope his work as an actor manages to be as consistent as his stand-up without interfering with comedy.