Juan Carlos Fresnadillo To Direct Bioshock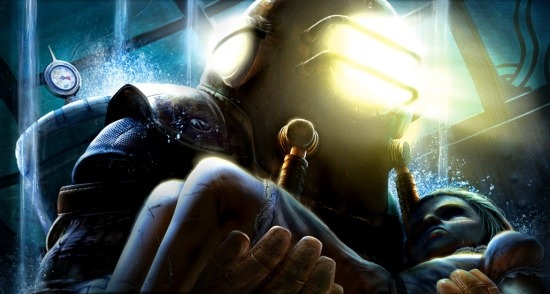 The good news: Universal Pictures is making a big screen adaptation of the videogame Bioshock after all. The bad news: Gore Verbinski has stepped out of the director's chair. Who is the new director? Why did Verbinski step down? Details after the jump.
Lets recap the story thus far: Universal greenlit the movie, and director Gore Verbinski stepped down from directing a possible fourth film in the Pirates of the Carribbean series. But in late April, Universal shut down the production, due to the film's ballooning budget. The plan was to rework the script and explore possible locations outside the country which would offer financial incentives. When asked by the Los Angeles Times for an update on the project, Verbinski sounded less than hopeful.
"The bottom line is it has to shoot out of the States for budget reasons and my schedule may be prohibitive. There's a great script and a really interesting cast. It really comes down to the financial model now. Big movies are just not being shot in the States. I'm weighing whether I can physically go the U.K. or Australia or one of those other places with a tax rebate for a year-and-a-half."
Well, that is exactly what Universal has done, and as Verbinski hinted at in the quote from a few months ago, the shooting schedule abroad prevents him from being able to commit to the overseas shoot. Variety says that Verbinski could not commit to the overseas scheduling due to his duties on the animated film Rango, which he is directing for Paramount, and stars Johnny Depp. So who is going to take Verbinksi's place?
Juan Carlos Fresnadillo, best known to American filmgoers as the writer/director of 28 Weeks Later. Verbinski will remain involved in the project, but only as producer. I know a lot of people weren't too excited about Verbinski's involvement with the property, but I thought he would be one of the filmmakers who would be able to get the production design and tone right. I was actually one of the few people who didn't like Fresnadillo's 28 Days Later sequel, although I did enjoy some of the cinematography and terrifying action.
With a pool of talented name brand filmmakers hoping to helm such a project (Guillermo del Toro has been outspoken), its amazing that Universal went with Fresnadillo in the end. Don't get me wrong, Fresnadillo shows a lot of promise, but why is Universal trusting a project this big to a filmmaker with only one Hollywood hit? Going from the guy who released three of the highest grossing films in the history of cinema to a guy who directed a fun horror sequel is a huge trade downhill.
When Verbinski was working on the project, the budget ballooned to an unreasonable $160 million, and was said to be growing larger and large by the day. I understand why Universal would be afraid to step into those waters, but the project they are now prepping sounds like a massive cut in creative, talent, and budget. I could be wrong, and I hope I am, because Bioshock is the kind of property that needs to look and feel as big as the game.
Since its release, Hollywood has eyeing a big screen adaptation of this popular first-person shooter. Praised for its morality-based storyline, immersive environment and Ayn Rand-inspired dystopian setting, the game has received overwhelmingly positive reviews, and ranks as the thirteenth best video game on Game Rankings. Set in an alternative history 1960, BioShock follows the story of a plane crash survivor named Jack, who must explore the underwater Objectivist-dystopian city of Rapture, and survive attacks by the mutated beings and mechanical drones that populate it. Jack is drawn into a power struggle during which he discovers that his will is not as free as he'd thought. Aviator screenwriter John Logan penned the script.