Cool Stuff Reviewed: Troll 2 T-Shirt And A Sleestak Stash Bank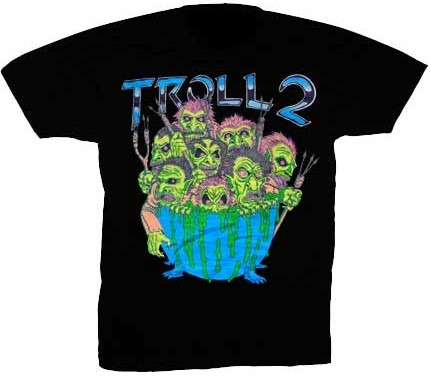 So classic that it will probably land an endangered video store employee on the cover of Purple magazine, the official Troll 2 shirt from Austin's Mondo Tees more than earns its price in sunglass-dips from geek broads. Ahem, unlike a certain pair of Mooninite pants. Many of our readers know that /Film and the /Filmcast's love for the 1980s cult classic turned pop-cult phenom runs double deep. And it's not just us. In 2009, the magically wretched horror-fantasy became immortalized as the Best Worst Movie of all time. Generally speaking, however, this particular /staffer is not big on wearing movie-related apparel. I have an innate fear of becoming Comic Book Guy. And—Spoiler Alert—the day I get burrito sauce on a T-shirt from, say, George Lucas's factory while watching Magnum P.I. at 2 p.m. is the wasted day I kill myself.
Surprisingly, never before had I previously imagined what Troll 2 would be like if it was a band and not a movie. But then the shirt arrived and mental clouds parted as screamed lyrics reigned down to preach the corrupt values of Nilbog, Stonehenge Magic Stone, and a slutty popcorn witch with a vegan agenda. Random thought: Harmony Korine could very well have worn this shirt with his coke-bottle glasses in Kids at the skateboard rave instead of one for Nuclear Assault. Chloë Sevigny wouldn't have noticed either way, so I guess it's a moot point.
The Test: After five heavy-duty washes (for the desired "I-was-there" effect), the shirt's day-glo colors still pop like a wet back of Gremlins. I love that Betty the Bug-eyed Goblin aka S*** Eyes is appropriately crammed into the very front of this claw-foot cauldron. While staring at Betty in the mirror of a bar I go to, it felt like if I didn't nurse her with a bottle of beer, she'd turn around and devour the rest of my liver prematurely. This shirt is pure entertainment, people.
/Film Rating: 9.5 out of 10
/Film Bonus Rating: 10.666 (signed by Troll 2's George Hardy)
The shirt is $25 and available in none-more-black or golf-course green. For more info: Mondo Tees. For more art by Jon Vermilyea, click here.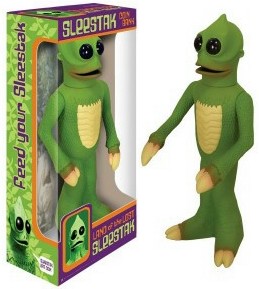 Why a Sleestak? Fair enough. Even though this summer's soon-to-be-cult adaptation of Land of the Lost didn't do very well at the box office, I'm not able to shake the feeling that Sid and Marty Krofft's Sleestak (no "s" even when pluralized) deserve their moment. While zombies inexplicably remain huge in the geek zeitgeist, so has my utter disdain for them. To me, the Sleestak, a reptilian alien, is a far scarier and intriguing take on slow-moving, slow-thinking, human-like horror. Their shiny onyx eyes instigate helpless paranoia and a mesmerizing foreign-born dread. And they're more relevant to our culture as well: as a race, the Sleestak's murky, secretive history lends itself to entertaining, long-going conspiracies about Reptilians, the same conspiracies that have flirted with the mainstream of late.
This Sleestak Bank by Funko is not modeled after the remake but the '70s TV show, one of the first to insert subversive, adult context into children's programming. Over the last few months, I have become obsessed via Netflix with the series. Characters are constantly experiencing intense altered states and undergoing prism-enabled time-lapses. The show is even weirder and hazier than Fishing with John, my summer series obsession circa 2004. With the right LoTL combination, for example a claymation dinosaur named "Dopey," a shimmery pylon cave, and a few displaced sexual innuendos, I can forget who I am for a maximum of six hours. According to the packaging, my new "far out" Sleestak bank is to be used for coins. However, I have found that it is also great for storing "triangle tobacco." One simply removes the head from the Sleestak's body, makes a drop, inhales the strong aroma, and gently places the head back on.
What's more, the Sleestak's scaly arms are sturdy and adjustable, so as to perfectly hold and present its owner with a pipe, a lighter, a late-night pastry, or a Butterfinger. Even though it does not glow in the dark (Sleestak do not, so it is accurate), the smooth exotic green plastic always seems on the verge of doing so. Charming.
/Film Rating: 9 out of 10 (-.5 for leaving a creepy silhouette at night, -.5 for no roommate-deterrent combination lock)
For more info: Funko (Generously testing our late night sanity, Funko also sent us several other Sleestak figures, all of which are offered on the site.)
If you would like to mail Hunter Stephenson something to consider reviewing for Cool Stuff, email him at h.attila[at]gmail.com. He is also on Twitter. For another /Film staffer, email orfilms[at]gmail.com.