Robert Redford To Direct Lincoln Assassination Film The Conspirator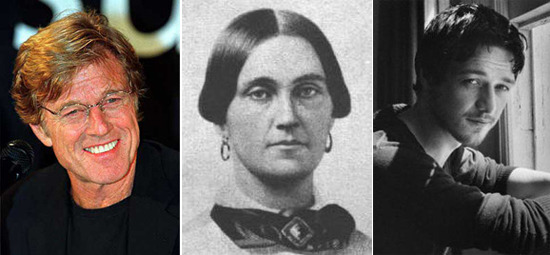 THR's RiskyBizBlog reports that Robert Redford will direct The Conspirator, a film about Mary Surratt, said to be an accomplice of Lincoln assassin John Wilkes Booth. While this movie is a far cry from Steven Spielberg's intended biopic about the President, nonetheless it is a bit surprising to hear about another major director taking on a project so close to Lincoln when Spielberg isn't yet able to get his own financed.
You might have read about Surratt in Manhunt: The 12-Day Chase For Lincoln's Killer, by James Swanson, but this isn't an adaptation of that book. (There is another film project, by HBO and Walden Media, that might adapt that directly.) James Solomon wrote this script, and while the article doesn't mention his sources, chances are the screenplay is drawn at least in part from Kate Clifford Lawson's book The Assassin's Accomplice: Mary Surratt and the Plot to Kill Abraham Lincoln. Previous to Lincoln's assassination, Surratt's son John had conspired to kidnap the President. Despite her protestation of innocence, Mary Surrat was arrested as a conspirator in Lincoln's assassination and was sentenced to death; she is said to be the first woman executed by the United States Federal Government.
THR doesn't mention who might play Mary Surratt, but says that James McAvoy (who's having a good night, with another announcement) is high in the running for a lead male role in the film. He could play John Surrat, who was 21 at the time of the assassination, or one of the other men Mary Surrat was said to have provided arms to on the night of the killing. Even better, I'd love to see him as Booth.
Redford has also been set to direct Against All Enemies, based on Richard Clarke's book about the recent Bush administration's intelligence woes, but THR notes that project's future is uncertain. Whichever goes first will be Redford's follow-up to the truly awful Lions For Lambs, which at least had one of the better uses of Tom Cruise in recent memory.