Movie Trailer News: Avatar And Up In The Air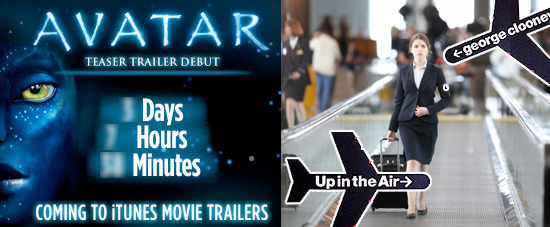 Want to know when the trailers for James Cameron's Avatar and Jason Reitman's Up in the Air will be online? Details after the jump.
We all know that the first teaser trailer for James Cameron's Avatar will hit on August 21st, Avatar Day, attached to the new releases of the week. But did you know that the trailer will premiere online the day before? On Friday, Apple began running a countdown on their movie trailer page, advertising the first teaser trailer for the new 3D sci-fi movie. The countdown ends on Thursday at 7:00am, which is when we can expected the trailer to be online. Check back then.
Jason Reitman's new film, a big screen adaptation of Walter Kim's novel Up in the Air, will premiere at the 2009 Toronto International Film Festival. But a few days before that happens, the first trailer will premiere online. The Up in the Air teaser trailer will premiere on Apple on September 10th, and will be attached to The Informant and Love Happens beginning on September 18th.
The film stars George Clooney as Ryan Bingham, a corporate downsizing expert whose cherished life on the road is threatened just as he is on the cusp of reaching ten million frequent flyer miles and just after he's met the frequent-traveler woman of his dreams. We'll be in Toronto for the premiere, so keep checking back for our coverage. And check back on September 10th for the trailer premiere.
via: STLToday