Playboy Publish Inglourious Basterds Comic Strip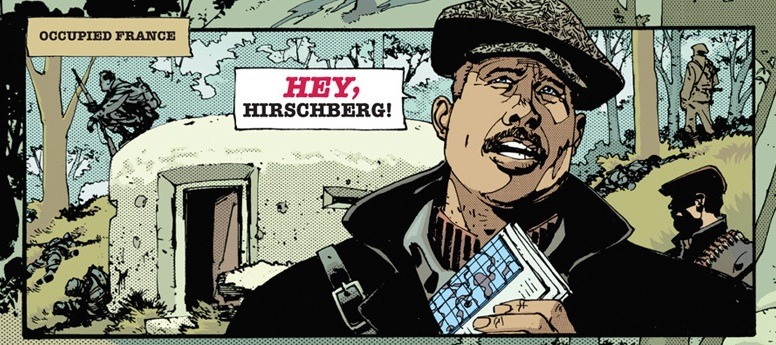 If you're at work, you might want to think twice before clicking over but Playboy magazine are publishing a comic strip adaptation of a scene from Inglourious Basterds and it's also available on their website. Perhaps more safe would be checking out two preview pages at The Huffington Post, where I first caught wind of this amusing PR trick. According to them, the scene in question was "hand-picked and edited by Quentin Tarantino" – as well, of course, as coming straight from his screenplay and movie.
A little disappointing, perhaps, that the opening caption simply reads "Occupied France" and not "Once Upon a Time in Nazi Occupied France" as per the film. That title card is far from being an accident or just a twee novelty.
The artwork for the strip was done by R.M Guera and colored by Giulia Brasco who also collaborate on Vertigo comics' Scalped. How amusing. I can almost imagine Tarantino hollering "And I want my (artwork done by the people who do) Scalped" with Lt. Raine's deep southern drawl.
I'm not that convinced by this comic strip, I'm afraid. Not to throw any aspersions on the actual filmed scene, of course, it's just that the adaptation is rather text heavy. This is not comics being pushed at all. A shame really, because Tarantino knows visual storytelling like nobody's business and is clearly a genuine lover of comics too.
A Playboy tie-in is interesting. I remember that when I was younger and I had to start trying to find copies of Playboy in order to find interviews with filmmakers that I wanted to read (including a couple with Kubrick that were well worth the effort), I often felt a little coy, perhaps even embarrassed, when snooping around for copies in collectors' shops and the like. I've no idea what the magazine is like now, but I'd imagine it's still a moderately chaste stripe of "gentlemen's magazine". Do they still publish good interviews with filmmakers? Do all of the women still look ghoulishly rubberised and airbrushed?