What's In The New Epic Monty Python Documentary? And What Has Been Cut Out?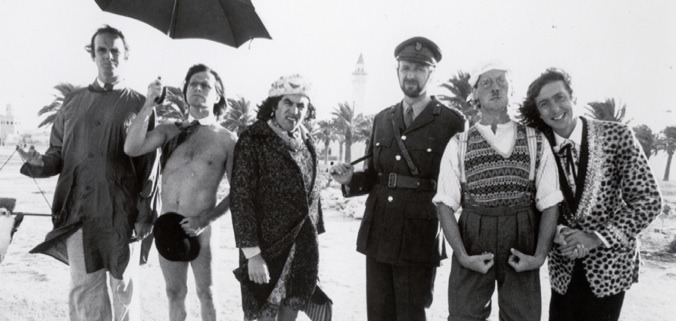 Courtesy of the ever useful BBFC classifications website, we can see that just last week the upcoming, multi-part Monty Python doc Almost the Truth: The Lawyer's Cut was granted a 15 cert. for DVD distribution. What's more, they gave us a full break down of the series by episode, and also a complete listing of the bonus sketches, extra interviews and deleted scenes included.
Also noted is that the documentary has three directors, including Alan Parker who we already knew about, and Bill Jones and Ben Timlett, both of whom are news to me; and that Simon Pegg, Dan Aykroyd, Russell Brand, Tim Roth, Seth Green, Steve Coogan, Eddie Izzard and Jimmy Fallon will all be appearing.
I've tried to make sense of all of the extra info for you after the break.
Here are the episode titles of the six separate shows:
The Not So Interesting Beginnings
The Much Funnier Second Episode – Flying Circus Included
And Now the Sordid Personal Bits
The Ultimate Holy Grail Episode
Lust for Glory
Finally! The Last Episode Ever! (For Now)
Each of which runs between 51 and 58 minutes a piece.
The various deleted scenes, running a few minutes a piece, have the following enticing names:
The Seventh Python
Bruce Dickenson Registers a Complaint
Elvis Was a Python Fan
The Origins of Fawlty Towers
The Hendon Sketch
The Origins of Cheese Show
Steve Coogan – The Undertaker
The Spam Museum
Python in Texas
Tomorrow's World – "Broken Bottle"
Python on Python
Is the seventh Python going to be about Neil Innes or Carol Cleveland? I'm hoping its Carol, with Neil in eighth. It's about time she was recognised for her contributions.
Bruce Dickenson was (and maybe still is, if anybody would care to care) the front man with Iron Maiden. To me he's now the celebrity pilot who inexplicably turns up on the news talking about aviation stories from time to time, though I suppose I should recognise that he scripted Chemical Wedding, the debut feature of regular Gilliam contributor Julian Doyle. I do own the bleeding thing on DVD after all.
Each of the Pythons is also featured in a little interview extra on "their early years", as well as a group feature on the same matter.
All in all it adds up to 464 minutes and 20 seconds of Python business – that's coming on for eight hours. Bring it on.