Rain To Star In Enter The Dragon Remake, Awaken The Dragon?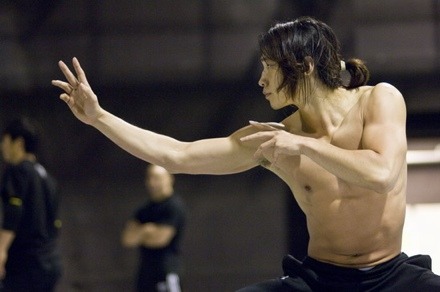 Update: There's currently some debate as to whether Rain is up for the Bruce Lee role, or the villain role of the film. While it would honestly make more sense to have Rain take up Lee's mantle instead of an "established American actor", I can't say for certain since the source article isn't entirely clear. We will keep you posted.
Korean pop-star Rain seems to be well on his way to becoming an action film icon. After his supporting role in Speed Racer, he stayed within the Wachowski family to star in Ninja Assassin (which early buzz seems to indicate that he kicked a sufficient amount of ass). Now, according to our friends over at Latino Review, he could be taking on a role made famous by Bruce Lee himself: Rain may have snagged the starring role in a modern noir remake of Enter the Dragon, dubbed Awaken the Dragon.
The project is the brainchild of Kurt Sutter, formerly an executive producer and writer on The Shield. The film will be Sutter's feature film directorial debut, and will follow an FBI agent in pursuit of a rogue Shaolin monk into the seedy world of martial arts fight clubs. According to Latino Review, WB may have settled on Rain for the role of the monk. Sutter is apparently aiming to make the film "more Raging Bull than Crouching Tiger in its viciousness." (Basically, not all that different than the original.)
While this would have been a perfect opportunity to give Donnie Yen some Hollywood love (seriously, check out Ip Man), I don't think Rain is a terrible choice either. Judging from what I've heard about Ninja Assassin, his martial arts prowess seems legitimate, and I think the guy has a solid on-screen presence. My big worry with casting pop stars in martial arts films is that we'd get another Storm Riders, but I don't think we need to worry about that with this project.
Discuss: Do you think Rain is worthy of taking on a former Bruce Lee role? Are there other martial arts stars you would have preferred?