Comic-Con Leftovers: Photos And Videos Unfit To Print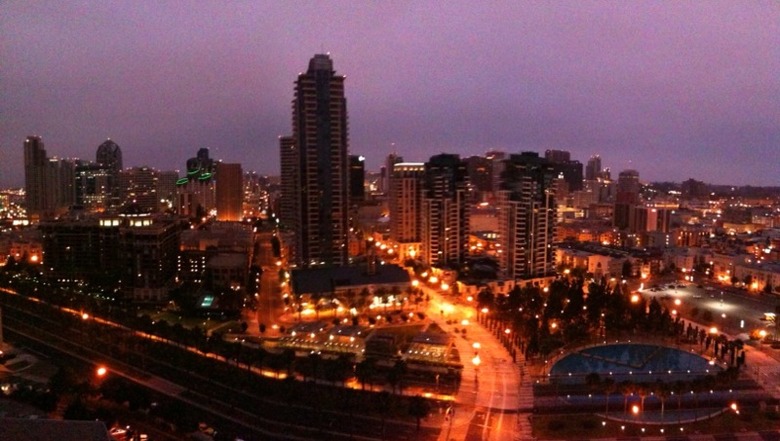 San Diego Comic-Con 2009 is over, but you can still read up on all our coverage and listen to our wrap-up podcast. During the course of the Con, I used my iPhone, Flip camera, and Canon SD camera to compile a lot of photo and video that helped give some flavor for what it was like to be there (the photo above was the view from our hotel room). Most of this stuff isn't of any interest to film news fans, but I wrote it up so that those of you who want some more Comic-Con coverage can have it (i.e. if you're not interested, just skip this post). Hit the jump to see some of the stuff that we saw, and please note that a lot of the video is really shaky. You've been warned.
First of all, for those of you who felt like you were missing out by not going to Comic-Con, here's a video I made of the second longest line at the Con (The longest was the line for Hall H). Many hours of our time there — maybe a full day's worth? — was spent waiting in these interminable lines. Epilogue: Devindra and I waited 90 minutes to get into the panel for Futurama and ended up not getting in.
Here's a video interview I did with some Twilight fans after we finally got into Hall H. We waited in line for 3 hours, but these women waited a little bit longer. I chatted with them about their line-waiting experience:
After the interview, one of the girls allowed me to take a photo of her Twilight tattoo:
Here's Kevin Smith's hilarious take on Twilight fans, which starts about 4:00 into the video. This video was taken by Youtube user optimum5x5 during the annual Kevin Smith panel:
I wrote on Twitter that this was one of the most satisfying costumes I've ever seen at any Comic-Con ever:
The guy in this costume was going around the Con taking photos with kids, who had no idea what the hell was happening:
There were a bunch of True Blood viral banners everywhere, which I found pretty creative, including this "Attract a Human" cologne ad at the top of the escalator:
Katey Rich shows off some of the swag they were giving out at Comic-Con:
Every year, everyone always talks about how bad the screaming is at the Twilight panels. I got this footage from the first 8 minutes of the New Moon panel to demonstrate this. You can't really tell from the compressed audio, but the sound is absolutely ear-piercing. The reason the camera angle is tilted for a lot of it is because I was actually using my right hand to plug my right ear, and my left shoulder to cover up my left ear, in order to prevent damage from the high-pitched shrieks.
Lastly, I just wanted to give you guys a taste of what it was like at the Boondock Saints panel, which, I am not exaggerating, was almost as crazy as the New Moon panel, save for the fact that there were far less people. Rocco from the first film showed up to ask a question at the Q&A, and Troy Duffy confirms he'll be in the next film. This is what ensued in the hall [Apologies for the really poor quality of this video].