Soderbergh Directing Play In Australia, Pessimistic About Film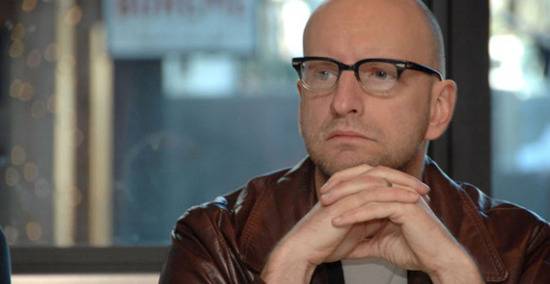 Yesterday a tipster wrote in to Jeff Wells at Hollywood Elsewhere to say that Steven Soderbergh is going to direct a play for Cate Blanchett's theatre company in Sydney, Australia. And, indeed, on the Sydney Theatre Co website there's a small printed exchange between Blanchett and Andrew Upton, the co-creative directors for the company, announcing an untitled stage project. Details and more after the break.
Here's the cute announcement:
Andrew: Steven Soderbergh?
Cate: He made Sex, Lies, and Videotape when he was about seven. He made the Ocean's Eleven, Twelve and Thirteen capers. He was nominated for an Academy Award for two films in the same year: Traffic and Erin Brockovich. We met him when I made The Good German.
Andrew: Just because you can make a good film doesn't necessarily mean you can direct a play, does it?
Cate: Not necessarily, but trust me, this guy could direct the phonebook.
Andrew: The phonebook? Is that the secret project?
Got it; it's secret. We'll know more soon. But this might be a good break for the director, who also recently made statements that suggested he's getting tired of the grind of filmmaking, both within and outside Hollywood. No, it's not just the Moneyball thing. Promoting Che overseas, Soderbergh sounds defeated by the process of making and releasing the film. (But promoting the DVD release now, or are the quotes older, and pre-Moneyball? The sentiment is the same, regardless, but The Playlist suspects they might be a few months old.) When asked if he wishes he'd never shot it, he actually says yes. The Guardian quotes:
Everybody got scarred by [Che] a little bit. I don't know how to describe it. It took a long time to shake off. It was just such an intense four or five months that it really ... You know, for a year after we finished shooting I would still wake up in the morning thinking, 'Thank God I'm not shooting that film'...Literally I'd wake up and think, 'At least I'm not doing that today.'
I'm looking at the landscape and I'm thinking, 'Hmmm, I don't know. A few more years maybe.' And then the stuff that I'm interested in is only going to be of interest to me...In terms of my career, I can see the end of it. I've had that sensation for a few years now. And so I've got a list of stuff that I want to do – that I hope I can do – and once that's all finished I may just disappear.
He says he can see three or four years worth of stuff, which could be quite a few films for him (including Cleo and his Liberace biopic) but that isn't long at all. Granted, he's talked about retiring before, and was quite pessimistic about several aspects of filmmaking just before Out of Sight was a big hit. Hopefully something will re-invigorate him, and we'll get many more years of work from one of the most consistently interesting directors around.
(And I promised myself that I wouldn't write much about Moneyball in this piece, but you have to check out the following news report on CNN, because it is hilariously serious.)