New Alice In Wonderland Image: The White Queen Meets The Dormouse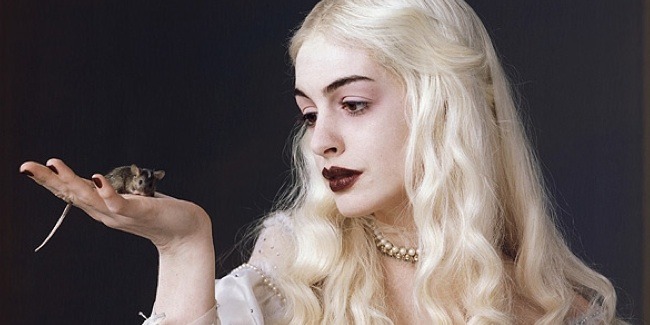 The fourth picture in a set we've already been getting excited over (and more than once, too) Empire have just revealed a fresh look at Anne Hathaway as The White Queen in Tim Burton's Alice in Wonderland. What makes this new image particularly interesting is the inclusion of a little furry friend, but more on that later. From the info I've been fed at least, The White Queen has a real name too, Mirana of Marmoreal and Alice visits her in a vast white marble castle. As pure as Hathaway makes her look, the White Queen is actually quite disgusting. I definitely wouldn't eat one of her cupcakes, I can tell you that. Nonetheless, she is an ally to Alice in a strange and frightening world.
You may be aware that there is no White Queen in the Wonderland book, with her appearing in the guise of a chess piece in Through the Looking Glass. Further confirmation, then that this is not a straight-up adaptation of Wonderland, despite featuring mostly the same cast and several of the same scenes.
What's so interesting about this Dormouse is that she's... well, she's a Dormouse. Not a cartoon Dormouse. There are several animal characters in the cast, and it would seem that they're going to look rather like actual, real animals. I've been told that the Cheshire Cat is, in some respects unrealistic (I previously reported a description of him as "green and yellow and rather cuddly looking") but I bet he's also very feline at heart.
The Dormouse has been given the voice of Barbara Windsor, doyen of Walford's Queen Vic and the Carry On camping site. Her name is, apparently, Malymkun and she gets to deliver an awful lot of the Stanley Unwin-esque nonsense words in the film too. Surprisingly, this wee mouse has apparently been given quite a good part.
Hopefully a lot more Alice business will be coming our way from Comic-Con. Some moving images would be nice.