2009 Comic-Con: Sunday Schedule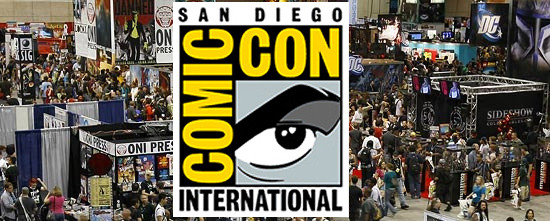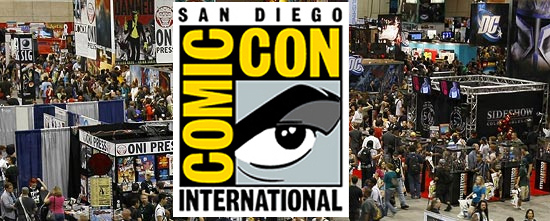 On Friday, San Diego Comic Con International announced updated Wednesday, Thursday and Friday line-ups for the 2009 convention. On Saturday they unveiled the Saturday schedule. And if you thought the Saturday schedule was television heavy, wait until you see the Sunday line-up.
Sunday is the last day of the convention, and is usually at a time when things begin to get depressing, but the line-up for the day is extremely lackluster. It's mostly kids television programs like Phineas & Ferb, Ni Hao, Kai-Lan and Wonder Pets!, SpongeBob, Fairly OddParents, The Penguins of Madagascar, and Kamen Rider Dragon Knight. There are some programs for the teens/adults:  Dr. Who, Smallville, American Dad, Supernatural, Ghost Whisperer, Being Human/Torchwood, and Buffy the Musical. Mystery Team and Paper Heart are the only movie panels the entire day.
Head on over to comic-con.org to see everything, or check out our selected television/movie schedule after the jump.
Sunday, July 26
10:00-11:00 Phineas & Ferb
Hey kids, whatcha doin'? Going to the Phineas and Ferb panel, that's what! Creators Dan Povenmire (Family Guy) and Jeff "Swampy" Marsh (Rocko's Modern Life) plus the voice of Phineas, Vincent Martella (Everybody Hates Chris) and other surprise guests from the show are on hand to tell you everything that's happening behind the scenes of Disney Channel and Disney XD's #1 animated series. You'll get to see sneak peeks of new episodes, new songs, plus prizes, giveaways, and juggling chainsaws (okay, maybe not that last one). Room 6DE
10:00-11:00 Nick Jr. Presents: Ni Hao, Kai-Lan and Wonder Pets!
Calling all Nick Jr. fans! This is the screening for you with not one, but two never-before-seen episodes! First, catch a brand new Ni Hao, Kai-Lan as the gang heads to China on an eye-popping, jaw-dropping adventure full of exciting new experiences. Then watch the Wonder Pets! team as they go on a mission to rescue Ming-Ming from a pair of enchanted shoes! Room 7AB
10:00-5:00 San Diego International Children's Film Festival
More than 60 short films from around the world made for children and families—animation, live action and documentary—plus filmmaker appearances highlight this Comic-Con family fave. Click here for the complete complete festival schedule. Room 10
10:00-11:00 Dr. Who
Actor David Tennant, writer/executive producer Russell T Davies, director Euros Lyn, and executive producer Julie Gardner discuss their creative process and experiences working on BBC America's Doctor Who—television's longest-running sci-fi series—with exclusive clips and a Q&A session. Ballroom 20
10:30-11:30 The Art of Adapting Comics to the Screen
Jeff Goldsmith (senior editor for Creative Screenwriting magazine) examines the in-depth process of adapting comic books to the big screen with a stellar panel including David Hayter (Watchmen), Gregory Noveck (Sr. VP of creative affairs, DC Comics), and Josh Olson (A History of Violence). Room 5AB
10:30-11:30 Smallville Screening and Q&A
Comic-Con favorite Smallville returns, as showrunners Kelly Souders and Brian Peterson join cast members Allison Mack (The Ant Bully), Erica Durance (House of the Dead), Cassidy Freeman (Finishing the Game: The Search for a New Bruce Lee), Justin Hartley (Gemini Division) and new series star Callum Blue (The Tudors), who will be playing the villainous Zod, to talk about the year ahead, answer fan questions and give an exclusive sneak peek at clips from season nine. Award-winning comic book writer, Emmy-nominated film and television writer/producer, and Smallville alum Jeph Loeb (Heroes) will moderate the session. From Tollin/Robbins Productions in association with Warner Bros. Television, Smallville will air Fridays at 8:00 PM this fall on The CW, premiering September 25. Smallville: The Complete Eighth Season will be released on DVD and Blu-ray Hi Def August 25. Room 6BCF
11:15-12:15 Nickelodeon Presents: SpongeBob, Fairly OddParents, and The Penguins of Madagascar
You won't want to miss this screening of your favorite Nickelodeon shows, including a never-before-seen episode of SpongeBob SquarePants, as Plankton tries yet again to bring down the Krusty Krab. Then be the first to watch Timmy and his fairies in a brand new Fairly OddParents episode. But wait, there's more! You'll also catch the gang from The Penguins of Madagascar on one of their latest adventures in the Central Park Zoo. Room 6DE
11:15-12:15 American Dad
Showrunners Mike Barker and Matt Weitzman and stars Seth MacFarlane, Wendy Schall, and Dee Bradley Baker are back to regale the fans with an insider's look at how an episode of the hilarious Fox animated comedy is made, from table read to animatic to color. Don't miss this one-of-a-kind Comic-Con event. Ballroom 20
11:45-12:45 Supernatural Screening and Q&A
Supernatural stars Misha Collins (24) and Jim Beaver (Deadwood), creator/executive producer Eric Kripke (Boogeyman), and executive producers Ben Edlund (Angel) and Sera Gamble (Eyes) present an exclusive sneak peek at footage from the highly anticipated fifth season premiere of this thrill-ride series. They'll also answer questions and show a portion of the special features from the upcoming fourth season DVD release. Produced by Wonderland Sound and Vision in association with Warner Bros. Television, Supernatural airs Thursdays at 9:00 PM ET/PT on The CW, premiering September 10. Supernatural: The Complete Fourth Season will be released on DVD and Blu-ray Hi-Def September 1. Room 6BCF
12:30-2:30 Zoinks! Scooby-Doo! The Mystery Begins
Come join everyone's favorite Great Dane as Warner Premiere & Cartoon Network present Scooby-Doo! The Mystery Begins. The all-new, live-action/CGI film reveals the origins of the Mystery Inc. gang on their first mission together. Be the first to witness the film, then stay for a fun-filled panel featuring director Brian Levant (Beethoven, Snow Dogs), producer Brian Gilbert (Wrong Turn, Skinwalkers), and the all-new live-action cast: Robbie Amell (Life With Derek, True Jackson VP) as Fred, Kate Melton as Daphne, Hayley Kiyoko as Velma, and Nick Palatas as Shaggy. Also expected to attend is Frank Welker, a member of the original Scooby-Doo, Where Are You! voice-cast, who provides the voice of Scooby-Doo for Scooby-Doo! The Mystery Begins, which will premiere on Cartoon Network and be distributed by Warner Home Video in fall 2009. Room 6DE
12:30-1:00 Roadside Attractions: Mystery Team
They were kid detectives. Now they're 18 and still solving child crimes. When challenged to solve a murder, the Mystery Team sees an opportunity to prove they're real detectives. A dark world of drugs, violence, and swear words awaits them. Mystery Team is the first film by popular Internet comedians Derrick Comedy, and at this panel the group—writers/stars Dominic Dierkes, Donald Glover, and DC Pierson, producer Meggie McFadden, and director/editor Dan Eckman—will be on hand to discuss the film, along with a special VIP moderator. The group will also be debuting an all-new Mystery Team short film. Ballroom 20
1:00-2:00 Ghost Whisperer Season Five: Everything New Is New Again
The cast and executive producers present an exclusive first look at video clips from the new season of Ghost Whisperer, along with hints and revelations about the game-changing addition of Melinda and Jim's new baby. Find out how the new character will bring new powers, new challenges, and new rules to the show, and how he will open doors to a whole new paranormal dimension—a dimension that will pit Melinda and her friends and family against entities darker and more dangerous than any she's ever faced, thrusting her into a battle between forces of good and evil, forces that she never knew existed. Featuring cast members Jennifer Love Hewitt, David Conrad, Christoph Sanders, Jamie Kennedy, and Camryn Manheim and executive producers Ian Sander, Kim Moses, and P. K. Simonds. Room 6BCF
1:00-1:30 Overture Pictures: Paper Heart
Despite professing a belief that she's incapable of love, comedian and actress Charlyne Yi finds herself falling for "Michael Cera," played by Michael Cera, in this intoxicating mix of documentary, improvisation, and romance. Charlyne Yi, producer/co-writer Nick Jasenovec, and co-star Jake Johnson will be onstage to show clips and pursue the ultimate question: Does true love really exist? Ballroom 20
1:30-2:00 Image: Alien TrespassDirected by X-Files veteran R. W. Goodwin and filmed in classic fifties sci-fi retro style, Alien Trepass is being released on DVD & Blu-ray by Image. If you love such vintage sci-fi epics as It Came From Outer Space and The Blob, come learn more about this tale of an Interstellar lawman whose deadly prisoner, the grotesque Ghota, escapes when their flying saucer crashes near a small desert town in 1950s California. Appearing for the first time: Emmy Award-winning actor Eric McCormack (Will & Grace, Andromeda Strain, and star of fan favorite Free Enterprise) joining co-star Jenni Baird (The 4400) and director R. W. Goodwin. Ballroom 20
2:00-3:00 Art of Pixar's Cars
Martin Arriola (Mattel), Ryan Gleason, (Mattel), Alan Porter (BOOM! Studios), and Ken Chang (Takefiveaday.com) present an inside peek at the art of the Cars world from the big screen to diecast to comic book series in this inspiring slideshow and Q&A session! Room 5AB
2:00-3:00 Muggles, Wizards, Tentpoles, and Fans in the World of Harry Potter
Back for its second year! Panel members Leslie Combemale (ArtInsights Gallery, official/exclusive HP art supplier), Henry Jenkins (USC, author of Convergence Culture), Melissa Anelli (webmaster, The Leaky Cauldron, author of Harry: A History), Gwendolyn Grace (president emeritus, HP Educational Fanon), Lev Grossman (Time magazine book reviewer, author of The Magicians), and Heidi Tandy (webmaster, Fiction Alley) duel over the latest Harry Potter issues. With the release of Half-Blood Prince, what does the future look like for Harry Potter fandom? Moderated by Potter Headmaster Eric Bowling. Room 32AB
2:15-3:45 BBC America: Being Human/Torchwood
You won't want to miss these special back-to-back panels on Being Human and Torchwood! Being Human creator Toby Whithouse and cast members Russell Tovey, Lenora Crichlow and Aidan Turner appear on stage to give an inside look at BBC America's U.S. premier sci-fi drama about the lives of three twentysomethings and their secret double-lives—as a werewolf, a vampire, and a ghost. Following that, Torchwood actor John Barrowman, creator/writer/executive producer Russell T Davies, executive producer Julie Gardner, and director Euros Lyn talk about the making of the epic five-night television event Torchwood: Children of Earth as well as take questions from the fans. Ballroom 20
2:45-3:45 Kamen Rider Dragon Knight
Meet the cast of TheCW4Kids new action-packed, monster-clobbering masked-heroes series Kamen Rider Dragon Knight. Stars Stephen Lunsford (Kit), Matt Mullins (Len), and Yvonne Arias (Maya) will answer all your Kamen Rider questions! Plus, fans will get to view never-before-seen footage from future KRDK episodes! Lucky attendees will get the chance to win prizes from Bandai's KRDK toy line and more! Room 6DE
4:00-5:00 Buffy the Musical
Let's end this show with a bang! The powers that be behind Fandom Charities Inc. and Whedonopolis.com present a screening of the Buffy the Vampire Slayer musical episode "Once More With Feeling" as Comic-Con 2009's big closing event! Many say this is the finest, funniest, most ingenious episode ever to come out of the Buffy-verse. But remember, the best part of the show is up to you! This episode was made for talkin'—back, that is—and singing and shouting and dancing in the aisles, with or without your dry cleaning! Audience participation: it isn't just for Rocky Horror and mob riots anymore. For more details on the screening visit www.whedonopolis.com, then show up for music, singing, surprises and dancing crazy! Ballroom 20