The Ultimate 3D Movie Preview And Release Date Schedule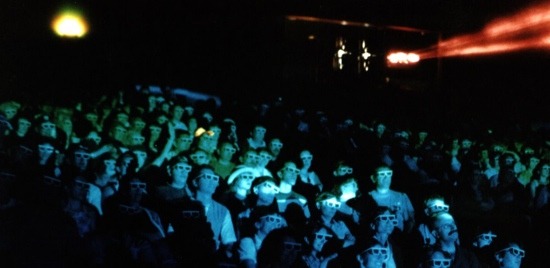 While I was writing an article on Monday about how the 3D per screen ticket sales were in decline (which doesn't necessarily mean that audience interest in 3D is in decline), I realized that there wasn't really an updated in-depth listing of 3D movie releases on the web. Most of the ones I found were missing something or were out of date, so I thought I'd create one myself.
After the jump you can find a comprehensive calendar of all the 3D movie releases that we know of in the next few years (up until 2013). As always, release dates are tentative. If you know of any wide releases that I've missed, please leave the information in the comments.
2009:
July 24, 2009: G-Force
Official Plot Synopsis: "Producer Jerry Bruckheimer brings his first 3-D film to the big screen with G-Force, a comedy adventure about the latest evolution of a covert government program to train animals to work in espionage. Armed with the latest high-tech spy equipment, these highly trained guinea pigs discover that the fate of the world is in their paws. Tapped for the G-Force are guinea pigs Darwin (voice of Sam Rockwell), the squad leader determined to succeed at all costs; Blaster (voice of Tracy Morgan), an outrageous weapons expert with tons of attitude and a love for all things extreme; and Juarez (voice of Penelope Cruz), a sexy martial arts pro; plus the literal fly-on-the-wall reconnaissance expert, Mooch, and a star-nosed mole, Speckles (voice of Nicolas Cage), the computer and information specialist. Directed by two-time Oscar®-winning visual effects master Hoyt Yeatman—G-Force takes audiences on a high-octane thrill ride, proving once and for all that size really doesn't matter."
July 29, 2009: Harry Potter and the Half-Blood Prince (25 minutes of 3D in IMAX)
The IMAX presentation of Harry Potter and the Half-Blood Prince will feature approximately 25 minutes of 3D footage, split over the opening sequence and the film's climax. Potter fans will remember that the 17-minute finale of Harry Potter and the Order of the Phoenix was also presented in IMAX 3D. I never got the chance to see the Phoenix finale in 3D, and didn't hear a big buzz about it from fans.
A lot of fans had an adverse reaction to the 3D presentation in Superman Returns, which was a post up-conversion process. It's my understanding that the Potter footage uses the same conversion process (i.e. it wasn't shot using 3D cameras). I'm not totally against the idea of post processed 3D, but it leaves me with the icky feeling of seeing a black and white movie which has been converted to color.
August 28, 2009: The Final Destination
The first movie was built around an airplane crash, the second movie revolved around a highway accident, the third movie involved a deadly roller coaster ride, and now Final Destination 4, which has been given the more-confusing-than-clever title The Final Destination, takes us to a Nascar track where the race becomes deadly. Yes, it is just as stupid as it sounds. But hey, it might be fun in 3D? Watch the trailer here.
September 18, 2009: Cloudy with a Chance of Meatballs
Inspired by the beloved children's book, Sony Pictures Animation's Cloudy with a Chance of Meatballs. tells the story of a scientist named Flint Lockwood, who while trying to solve world hunger who encounters a problem of global proportions, as food begins to fall from the sky like rain. Written and directed by Phil Lord and Chris Miller, executive producers of the television show How I Met Your Mother, and featuring a voice cast comprised of Bill Hader, Anna Faris, Andy Samberg, James Caan, Bruce Campbell, Tracy Morgan and Mr. T. Watch the trailer here.
October 2, 2009: Toy Story and Toy Story 2 in 3D Double Feature 2 Week Only Limited EngagementToy Story and Toy Story 2 will be released as a 3D double feature nationwide on October 2nd 2009. The double feature will first premiere at the 66th annual Venice Film Festival, which runs September 2nd – 12th 2009. The limited engagement will only run for two weeks. Toy Story 3 is still scheduled for a June 18th 2010 release. The first real trailer for the third film will be attached the the double feature, and will be presented in 3D.
October 23, 2009: The Nightmare Before Christmas 3D Re-Release
Disney will re-release the 3D up-conversion of Tim Burton's holiday stop-animated classic in a limited amount of theaters.
October 23, 2009: Astroboy
Imagi Animation Studios, the guys responsible for the recent computer animated TMNT film, are making a big screen computer animated adaptation of AstroBoy. Set in futuristic Metro City, Astro Boy is about a young robot with incredible powers created by a brilliant scientist named Tenma (Nicolas Cage). Powered by positive "blue" energy, Astro Boy (Freddie Highmore) is endowed with super strength, x-ray vision, unbelievable speed and the ability to fly.
Embarking on a journey in search of acceptance, Astro Boy encounters many other colorful characters along the way. Through his adventures, he learns the joys and emotions of being human, and gains the strength to embrace his destiny. Ultimately learning his friends and family are in danger, Astro Boy marshals his awesome super powers and returns to Metro City in a valiant effort to save everything he cares about and to understand what it takes to be a hero. Watch the second teaser trailer here.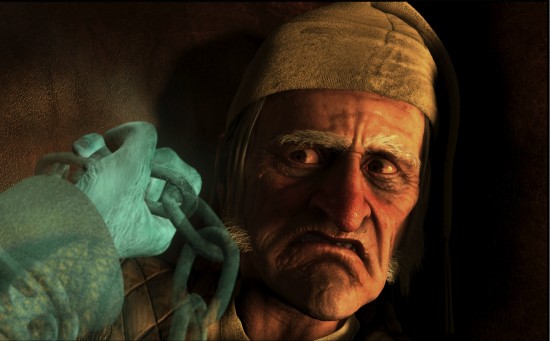 November 6, 2009: Robert Zemeckis' A Christmas Carol
Disney's A Christmas Carol is being billed as "a multi-sensory thrill ride re-envisioned by Academy Award-winning filmmaker Robert Zemeckis, captures the fantastical essence of the classic Dickens tale in a groundbreaking 3D motion picture event." The official plot synopsis follows: Ebenezer Scrooge (Jim Carrey) begins the Christmas holiday with his usual miserly contempt, barking at his faithful clerk (Gary Oldman) and his cheery nephew (Colin Firth). But when the ghosts of Christmas Past, Present and Yet to Come take him on an eye-opening journey revealing truths Old Scrooge is reluctant to face, he must open his heart to undo years of ill will before it's too late." Carrey not only plays Scrooge, but also the Ghost of Christmas Past, the Ghost of Christmas Present and the Ghost of Christmas Yet To Come. And Oldman does triple duty as Bob Cratchit, Marley and Tiny Tim. Check out some footage from the film here.
November 20, 2009: Planet 51
Ilion Animation Studios' $60 million computer animated feature film Planet 51, tells the story of Earth astronaut Capt. Charles "Chuck" Baker, who lands on Planet 51, which is inhabited by creatures who live in fear of an alien invasion. Befriended by a young resident, the astronaut has to avoid capture in order to recover his spaceship and return home. Sounds like a great concept, but I already saw a movie called Terra with almost the EXACT SAME STORYLINE at this year's Toronto Film Festival. To be fair, both Terra and Planet 51 were probably in production at the same time (I know Planet 51 has been in production for the last five years), so I'm not accusing. The animation in Planet is a lot more refined, as the production has a much higher budget. Watch the trailer.
[Excerpt from Russ Fischer, photo above from the video game] Jake Sully (Sam Worthington) is a soldier who hasn't found anything worth fighting for. Adding injury to insult, he's lost the use of his legs. So when the opportunity comes to travel to the planet Pandora and work with a mining operation there, Jake accepts. What's on Pandora that is so important? A mineral, found nowhere else, that is a game-changer with respect to energy production.
Pandora is a lush but harsh planet. The air is poisonous to humans. Plants and creatures alike are predatory and very dangerous. And the natives, ten-foot tall blue humanoids called Na'vi, aren't exactly pleased about the men and machinery that are scarring the surface and digging to find the unobtanium. Because the planet is so harsh, traditional armor and envirosuit solutions have been insufficient to protect miners. A sort of clone program has developed in which DNA from humans and Na'vi are combined. The result is essentially a cloned Na'vi that can house the consciousness of an individual with human DNA that matches the original clone material.
Jake Sully's brother had been the original donor and controller for one such avatar. But he's been killed, so the corporation has asked Jake to come to Pandora to pilot the (very expensive) body, as he's got matching DNA. The upshot for Jake: he'll be able to walk again. Read Russ Fischer's full article Everything We Know About James Cameron's Avatar.
2009: Thomas Jane's The Dark Country
Thomas Jane directs and stars in this big screen adaptation about a couple en route from Las Vegas are forced to deal with a body out in the desert making their honeymoon one hellish ride. The mystery/thriller also stars Ron Pearlman and Lauren German.
2010:
January 15, 2010: (unconfirmed) Hoodwinked 2: Hood vs. Evil
Red Puckett (Hayden Panettiere, played by Anne Hathaway in the first film) is in training for the Sister Hoods, and now teaming with Wolf (Patrick Warburton), she must investigate the mysterious disappearance of Hansel and Gretel (Bill Hader and Amy Poehler) and Mr. Alligator (Bill Murray). Comedian Martin Short will be taking over the role of the Woodsman from Jim Belushi. Benjy Gaither, Glenn Close, Patrick Warburton and Andy Dick have been confirmed as returning to their roles from the previous film. (photo above from the original film)
February 8, 2010: Beauty and the Beast in 3D
[excerpt from my ShoWest Report] When Disney first announced that they would be rereleasing Beauty and the Beast upconverted into Digital 3D, I was very skeptical. For a film like Toy Story, the up conversion makes sense because the movie was animated using 3D models. But with a hand drawn animated film like Beauty and the Beast, you have an entirely different animal altogether. I imagined someone ripping through the original film frame by frame, cutting out characters and objects, and separating them into layers, and that the result would look similar to the effect of the old multi-plane animation camera. Boy, I was wrong.
At Disney's presentation at ShoWest, they premiered the just completed first scene featuring the musical number "Belle". It blew me away. The best way I can put it is that Beauty and the Beast looked new again. I'm not a huge supporter of 3D, so don't take this as me just drinking the kool aid being served at this exhibitor convention.Bell had what seemed like added dimension, and the whole thing worked incredibly well. I wish you could see the scene for yourself, because almost everyone I talked to in attendance was instantly sold. I can totally imagine Disney doing this with other releases. I'd like to see Lion King or some of the older classics back on the big screen.
March 5, 2010: Tim Burton's Alice in Wonderland
Official Plot Synopsis: From Walt Disney Pictures and visionary director Tim Burton comes an epic 3D fantasy adventure Alice in Wonderland, a magical and imaginative twist on some of the most beloved stories of all time. Johnny Depp stars as the Mad Hatter and Mia Wasikowska as 19-year-old Alice, who returns to the whimsical world she first encountered as a young girl, reuniting with her childhood friends: the White Rabbit, Tweedledee and Tweedledum, the Dormouse, the Caterpillar, the Cheshire Cat, and of course, the Mad Hatter. Alice embarks on a fantastical journey to find her true destiny and end the Red Queen's reign of terror. The all-star cast also includes Anne Hathaway, Helena Bonham Carter and Crispin Glover; Linda Woolverton wrote the screenplay. Capturing the wonder of Lewis Carroll's beloved "Alice's Adventures in Wonderland" (1865) and "Through the Looking-Glass" (1871) with stunning, avant-garde visuals and the most charismatic characters in literary history. Check out some character and concept photos here and here.
[no photo]
March 19, 2010: Piranha 3-D
March 26, 2010: How to Train Your Dragon
Official Plot Synopsis: "An adventure comedy set in the mythical world of burly Vikings and wild dragons, based on the book by Cressida Cowell. The story centers around a Viking teenager, who lives on the island of Berk, where fighting dragons is a way of life. Initiation is coming, and this is his one chance to prove his worthiness to his tribe and father. But when he encounters, and ultimately befriends, an injured dragon, his world is turned upside down. " Based on the book by Cressida Cowell. Directed by Chris Sanders, and featuring the voices of Jay Baruchel, Gerard Butler, America Ferrera, Jonah Hill, Craig Ferguson, Kristen Wiig, TJ Miller and Christopher Mintz-Plasse.
April 16, 2010: (3D unconfirmed) Robert Rodriguez's Nerverackers
May 21, 2010: Shrek Forever After
Retitled from Shrek Goes Fourth, directed by Mike Mitchell (Duce Bigelow, Surviving Christmas, Sky High). The original all-star cast is set to return, including Mike Myers, Eddie Murphy, Cameron Diaz and Antonio Banderas.
June 18, 2010: Toy Story 3The creators of the beloved Toy Story films re-open the toy box and bring moviegoers back to the delightful world of Woody, Buzz and our favorite gang of toy characters in Toy Story 3. All we know is that Andy grows up and is leaving for college. Lee Unkrich, co-director of Toy Story 2 and Finding Nemo) directs this highly anticipated film, and Michael Arndt, the Academy Award-winning screenwriter of Little Miss Sunshine, brings his unique talents and comedic sensibilities to the proceedings. The voice talent confirmed includes: Tom Hanks, Tim Allen, Joan Cusack, Don Rickles, Wallace Shawn, Estelle Harris, John Ratzenberger, Ned Beatty. Composer Randy Newman returns. Watch the teaser trailer.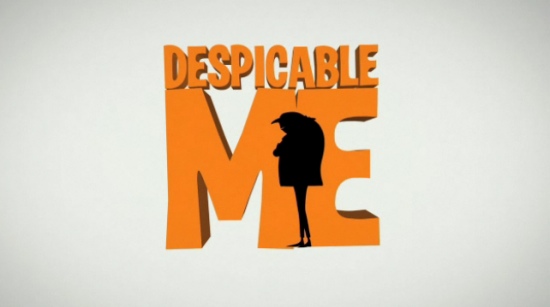 July 9, 2010: Despicable Me
Official plot synopsis: "In a happy suburban neighborhood surrounded by white picket fences with flowering rose bushes, sits a black house with a dead lawn. Unbeknownst to the neighbors, hidden beneath this home is a vast secret hideout. Surrounded by a small army of minions, we discover Gru (voiced by Steve Carell), planning the biggest heist in the history of the world. He is going to steal the moon (Yes, the moon!) in Universal's new 3-D CGI feature, Despicable Me.Gru delights in all things wicked. Armed with his arsenal of shrink rays, freeze rays, and battle-ready vehicles for land and air, he vanquishes all who stand in his way. Until the day he encounters the immense will of three little orphaned girls who look at him and see something that no one else has ever seen: a potential Dad.The world's greatest villain has just met his greatest challenge: three little girls named Margo, Edith and Agnes."
July 30, 2010: Cats & Dogs: The Revenge of Kitty Galore
Written by Ron Friedman and Steve Bencich (Brother Bear, Chicken Little Open Season), and directed by short filmmaker Brad Peyton, who is making his feature debut, the movie continues the story (setup by the 2001 original) of the battle between cats and dogs for control of Earth. Chris O'Donnell and Jack McBrayer play the live-action stars.
August 6, 2010: Step Up 3D
Fron Jon Chu, the director of Step Up 2 the Streets, comes a third movie in the franchise. Yawn.
September 24, 2010: Zack Snyder's Guardians of Ga'hooleZack Snyder's animated film adaptation of Kathryn Lansky's children's book Guardians of Ga'Hoole (part of a 14 book bestselling kids series) has been described the tone as more "Harry Potter" "than Happy Feet." The story follows a young barn owl named Soren, who is kidnapped by owls of St. Aggie's,where owlets are brainwashed into becoming soldiers. He and his new friends escape to the island of Ga'Hoole, to assist its noble, wise owls who fight the army being created by the wicked rulers of St. Aggie's. The voice cast includes Jim Sturgess (21), Geoffrey Rush (Pirates of the Caribbean), Rachael Taylor (Transformers) and David Wenham (300). It has been rumored that Hugh Jackman, Hugo Weaving and Ryan Kwanten (True Blood) will make-up the voice cast lead roles, but that has yet to be officially confirmed.
October 1, 2010: Alpha and Omega
Directed by Anthony Bell (My Rugrats Vacation), this animated family adventure comedy is about two mismatched young wolves thrown are together by circumstance. Featuring the voice talent of Heyden Panettiere, Justin Long, Christina Ricci, and Dennis Hopper.
October 22: (unconfirmed) The Nightmare Before Christmas 3D Re-Release
Disney will rerelease the 3D up-conversion of Tim Burton's holiday stop-animated classic in a limited amount of theaters.
November 5: Dreamwork Animation's Oobermind
DreamWorks Animation's Oobermind is the superhero comedy project being produced by Ben Stiller, formerly titled Master Mind. Written by Alan J. Schoolcraft and Brent Simons, Oobermind is a satirical take on superhero movies (think The Incredibles). When super villain Oobermind (Robert Downey Jr) defeats his arch-rival Metro Man, the world should be his oyster. But instead, Oobermind falls into total despair. It turns out that life without a rival is life without a point for him. So he creates a new superhero rival. Unfortunately, the new hero wants to be a super villain too. Who can we turn to? Who has what it takes to stand up to this menace? Who will defend the innocent? Oobermind! That's who. Tina Fey also provides her voice for the film.
November 15: (unconfirmed) Harry Potter and the Deathly Hallows: Part I IMAX
The last two IMAX releases of the Harry Potter films have featured 3D footage, so it's very possible that Deathly Hallows: Part I will as well.
December 2010: Disney's RapunzelDirected by Glen Keane and Dean Wellins, this new telling of the classic fairy tale, will transport audiences "to a stunning CG fantasy world complete with the iconic tower, an evil witch, a gallant hero and, of course, the mysterious girl with the long golden tresses. Expect adventure, heart, humor, and hair, lots of hair." Keane wants this computer animated film to look and feel like a traditional hand-drawn Disney Classic, but in 3D.
A short clip of test footage was shown at Siggraph 2005, where is gained a lot of attention. Apparently the film uses a non-photorealistic rendering technique which will make the surface look like it is painted but still containing depth and dimensions. The movie's visual style is being based on French Rococo artist Jean-Honore Fragonard's painting "The Swing". It should be noted that the image above is an older image of Rapunzel, before they revamped (the project was originally titled Rapunzel Unbraided). See more concept art here.
December 17: The Smurfs 3D
Directed by Raja Gosnell, who previously helmed Scooby Doo and its sequel, and more recently Beverly Hills Chihuahua, the film will be a live-action 3D hybrid,
Late 2010: (unconfirmed release date) Tron 2
The official plot synopsis follows: "Tron 2 is a 3D high-tech adventure set in a digital world that's unlike anything ever captured on the big screen. Sam Flynn (Garrett Hedlund), the tech-savvy 27-year-old son of Kevin Flynn (Jeff Bridges), looks into his father's disappearance and finds himself pulled into the same world of fierce programs and gladiatorial games where his father has been living for 25 years. Along with Kevin's loyal confidant (Olivia Wilde), father and son embark on a life-and-death journey across a visually-stunning cyber universe that has become far more advanced and exceedingly dangerous." The sequel is helmed by commercial director Joseph Kosinski (you can see some of his fantastic work here).
2010: (unconfirmed) Laika Entertainment's Here Be Monsters
Based on the novel by Alan Snow, and produced by Henry Selick (Coraline, The Nightmare Before Christmas), this family adventure tells the story of a young boy tries to save his town from an evil takeover. Based on the children's novel by Alan Snow.
2010: IMAX: Hubble 3D
Made by the same filmmaking team behind Space Station 3D, Hubble 3D will chronicle the amazing saga of the greatest success in space since the Moon Landing. "Featuring stunning on-orbit coverage of the telescope's final repair and jaw-dropping IMAX 3D flights through distant galaxies, Hubble's astonishing legacy will be captured for generations to come."
2010: Joe Dante's The HoleThe Hole tells the story of Susan (Teri Polo), a mother who moves with her teen sons to a rural house where the three discover a bottomless hole in the basement.
2010: Alex Winter's The Gate
[excerpt from Russ Fischer] Alex Winter (yeah, that Bill and Ted Alex Winter) has found financing for his proposed 3D remake of The Gate, which origially starred a very young and round-faced Stephen Dorff as a kid who finds a gate to a prison containing ancient demons. Naturally, they want to take over the world, just like the army of remakes we've been facing down for the last few years.
We don't know much about the plot details. The original followed Glen (Dorff), his sister Al (Christa Denton) and Glen's friend Terry (Louis Tripp) and their fight against demons unleashed from an unusual gate found when an old tree is removed from Glen's backyard. The kids learn the truth about the tiny demons from a metal record which is actually a demonic tome called The Dark Book. No better way to engage and make fun of mid-'80s paranoia about that satanic metal music! The film was fun and creepy, with some great practical effects. H2O has hired Pixomondo (2012, Ninja Assassin) to do the effects this time, but I expect they'll be largely digital. Let's hope for at least a few good practical demon dolls.
2011:
Early 2011: Blue Man Group 3D
Seattle-based short film and commercial filmmaker David Russo (director of the Sundance film The Immaculate Conception of Little Dizzle) directs a Blue Man Group movie, which will be distributed in IMAX 3D. The film is not just a recording of the group's stage performance, and will actually be a fictional story scripted by Lisa Robinson. Russo describes the movie as being about "the Blue Men entering the brain of a socially and creatively congested person and observing his neural patterns and his habitual brain functions and memory and altering it in a way that helps him bring his inside life outside." The original Blue Men, Chris Wink, Phil Stanton and Matt Goldman, will star and score the film.
[no photo]
April 8, 2011: Rio
From Blue Sky Studios comes this animated family adventure comedy about a nerdy macaw from small-town Minnesota takes off on an adventure to Rio de Janeiro. Directed by Carlos Saldanha (Ice Age, Robots, Ice Age: The Meltdown).
June 3, 2011: Kung Fu Panda: The Kaboom of Doom
Longtime story exec Jennifer Yuh Nelson makes her feature directorial debut, in a story following continuing adventures of Po, the Kung Fu panda. The original all-star cast is set to return, including Jack Black, Angelina Jolie, Dustin Hoffman, Jackie Chan, Seth Rogen, Lucy Liu and David Cross. A new villain has emerged with a mysterious weapon so powerful it threatens the very existence of kung fu. It is up to Po and the Furious Five to protect all that they know. But first, Po must confront his long lost past.
June 24, 2011: Pixar's Cars 2
John Lasseter got the idea for a sequel while traveling the world doing publicity for the original movie. He wondered what the characters of Cars would think about all these different locales, with the weird traffic situations and strange foreign automobiles. The sequel will follow Mater the tow truck, who gets his passport and takes a worldwide trip with Lightning McQueen. Directed by Brad Lewis, who was a producer on Ants and Ratatouille.
October 2011: (unconfirmed) The Nightmare Before Christmas 3D Re-Release
Disney plans to rerelease the 3D up-conversion of Tim Burton's holiday stop-animated classic in a limited amount of theaters.
November 4th 2011: The Guardians
Based on an upcoming book series by William Joyce, whose work inspired Disney's Meet The Robinsons. Described as "a contemporary fairytale based on existing fairytale characters," The world's five unlikeliest heroes – Jack Frost, North (aka Santa), Bunnymund (the Easter Bunny), Tooth (the Tooth Fairy), and Sandy (the Sandman) – must band together to stop an ancient spirit called Pitch (the Boogeyman) from plunging the world into eternal darkness. Of course, the characters have been "somewhat renamed and massively reimagined". The first book has a tentative release of Christmas 2010. Visual effects artist and animator Jeff Lynch makes his feature directorial debut.
November 18, 2011: Happy Feet 2 in 3D
George Miller is directing a sequel to Happy Feet. Photo above from the original.
December 2011: Pixar's Bear and the Bow
Pixar's first fairy tale, from acclaimed filmmaker/writer Brenda Chapman (The Prince of Egypt), who began as an additional animation artist on Who Framed Roger Rabbit and contributed story for The Little Mermaid, The Rescuers Down Under, Beauty and the Beast, The Lion King, The Hunchback of Notre Dame, Fantasia 2000, Chicken Run and Cars.
Official Plot Synopsis: "A rugged and mythic Scotland is the setting for Pixar's action-adventure The Bear and the Bow. The impetuous, tangle-haired Merida, though a daughter of royalty, would prefer to make her mark as a great archer. A clash of wills with her mother compels Merida to make a reckless choice, which unleashes unintended peril on her father's kingdom and her mother's life. Merida struggles with the unpredictable forces of nature, magic and a dark, ancient curse to set things right. Director Brenda Chapman and the storytelling wizards of Pixar conjure humor, fantasy and excitement in this rich Highland tale."
December 23, 2011: Steve Spielberg's The Adventures of Tintin: Secret of the Unicorn
Official Plot Synopsis: Directed by Steven Spielberg and starring Jamie Bell ("Billy Elliot," "Defiance") as Tintin, the intrepid young reporter whose relentless pursuit of a good story thrusts him into a world of high adventure, and Daniel Craig ("Quantum of Solace," "Defiance") as the nefarious Red Rackham. Bell and Craig are joined by an international cast that includes Andy Serkis, Simon Pegg, Nick Frost, Gad Elmaleh, Toby Jones and Mackenzie Crook."The Adventures of Tintin: Secret of the Unicorn," from a screenplay by Steven Moffat, Edgar Wright and Joe Cornish, is produced by Spielberg, Peter Jackson and Kathleen Kennedy, is the first in the series of 3D motion capture films based on the iconic character created by Georges Remi, better known to the world by his pen name "Herge" and is due for release in 2011. Executive producers are Nick Rodwell, Stephane Sperry and Ken Kamins. Paramount Pictures will release domestically and in all English speaking territories and Asia, excluding India. Sony Pictures Releasing International will distribute the film in Continental Europe, Eastern Europe, Latin America, India and the remainder of the world.
The film is the first of a planned series of 3D performance capture movies based on the character. Peter Jackson is scheduled to direct the second film, and a third film has been announced, but no director is yet attached.
2011: Journey to the Center of the Earth Sequel
Announced sequel, no word on casting, production or real release date.
2011: (unconfirmed) Disney's 20,000 Leagues Under the Sea: Captain NemoWritten by Randall Wallace (Braveheart), Justin Marks (Masters of the Universe, Super Max) and Bill Marsilli (Deja Vu), the film will tell the origin story of Nemo and his warship, the Nautilus, which were introduced in 20,000 Leagues Under the Sea was the first live action film in Walt Disney history. The unofficial logline reads: "A fugitive whaler teams up with a naturalist, a mysterious woman and a captain of a futuristic submarine, to search for a lost underwater civilization that holds libraries of vast knowledge and a weapon with the power to destroy mankind."
Director McG has said publicly that he wants to cast Will Smith as the film's title character. Disney hopes to make the film later this year in Australia, and McG is slotting it as his next. And while this has not been confirmed to be a 3D release, it seems like the perfect type of movie for the format, and Disney has gone 3D crazy.
2011: Ricky Gervais' Flanimals
A 3D animated feature film based on the Ricky Gervais children's book series Flanimals. Simpsons writer Matt Selman is working on the script based on the four volume series illustrated by Rob Steen. The books take readers to a "far, far away to a distant planet" inhabited by 50 species of "ugly and misshapen" creatures. Gervais will voice the lead character, a "pudgy, perspiring purple creature, goes on a mission to change the world." ITV was originally developing a claymation television series based on the books, but the idea was scrapped for the feature film. Gervais has joked that "It will be great to play a short, fat, sweaty loser for a change. A real stretch."
2011: Tim Burton's Frankenweenie
A 3D stop motion animated feature length remake of his infamous short, Frankenweenie was a parody of the 1931 Frankenstein film. When young Victor's pet dog Sparky is hit by a car, Victor decides to bring him back to life the only way he knows how. But when the bolt-necked "monster" wreaks havoc and terror in the hearts of Victor's neighbors, he has to convince them and his parents, that despite his appearance, Sparky's still the good loyal friend he's always been. The film starred Shelley Duvall, Daniel Stern, Barret Oliver, Sofia Coppola and Jason Hervey. The new version will feature other character he didn't get to include in the original film and will feature a "slightly bigger story." John August wrote the screenplay. Watch the original short film here.
2012:
March 30, 2012: Puss in BootsShrek the Third director Chris Smith directs this prequel spin-off to Shrek 2, telling the story of Puss in Boots (Antonio Banderas). Salma Hayek will voice the female love interest named Kitty. "Swords will cross and hearts will be broken in this adventure starring one of the most beloved characters of the Shrek universe – Puss In Boots. It's a swashbuckling ride through Puss's early years as he teams with mastermind Humpty Dumpty and the street-savvy Kitty to steal the famed Goose that lays the Golden Eggs."
May 27th 2012: Madagascar 3
Directed by Eric Darnell (Madagascar, Madagascar: Escape 2 Africa), the new story will follow the animals as they travel to Europe as part of a traveling circus. "Alex the Lion, Marty the Zebra, Gloria the Hippo, and Melman the Giraffe are still fighting to get home to their beloved Big Apple; King Julien, Maurice and the Penguins are along for the adventure. This time the road takes them through Europe where they find the perfect cover: a traveling circus, which they reinvent Madagascar style!" Tom McGrath previously said that the would like to see the characters return to their home, the Central Park Zoo, but it doesn't look like that's going to happen any time soon..
June 2012: Pixar's Newt
Newt marks the directing debut of multiple Academy Award winning sound designer Gary Rydstrom, who made his Pixar debut with the short film Lifted, which premiered in front of Ratatouille. "What happens when the last remaining male and female blue-footed newts on the planet are forced together by science to save the species, and they can't stand each other? Newt and Brooke embark on a perilous, unpredictable adventure and discover that finding a mate never goes as planned, even when you only have one choice. Love, it turns out, is not a science."
October 2012: (unconfirmed) The Nightmare Before Christmas 3D Re-Release
Disney will probably rerelease the 3D up-conversion of Tim Burton's holiday stop-animated classic in a limited amount of theaters.
November 12, 2012: DreamWorks Animation's Boo U.
What do ghosts think about humans? The film tells the story of a ghost who is bad at his job and must return to ghost school. Jon Vitti, who was a writer on The Simpsons and King of the Hill, is working on the screenplay. And the film will be directed by Tony Leondis, the filmmaker behind the forgettable Weinstein Co animated comedy Igor and the not-so-great direct to video sequel Lilo & Stitch 2.
Late 2012: (rumored) Monsters, Inc 2Buyers who attended a limited preview session at the 2009 Licensing fair in Las Vegas were told that Pete Docter will be following up Up with a sequel to Monsters, Inc. No further details have been revealed. Photo above from the original film.
Christmas 2012: Disney's King of the Elves
Directed by Aaron Blaise and Robert Walker, "Legendary storyteller Phillip K. Dick's short story (his only experiment in the fantasy genre) becomes the basis for this fantastic and imaginative tale about an average man living in the Mississippi Delta, whose reluctant actions to help a desperate band of elves leads them to name him their new king. Joining the innocent and endangered elves as they attempt to escape from an evil and menacing troll, their unlikely new leader finds himself caught on a journey filled with unimaginable dangers and a chance to bring real meaning back to his own life."
2013:
2013: (unconfirmed) DreamWorks Animation's Truckers
Based on the first of the thee books in Terry Pratchett's best-selling The Bromeliad Trilogy. "A society of tiny beings lives in a department store, right underfoot and unseen by the humans that shop there. To them, the store is the entire universe. And when they discover that the store is slated for demolition, they must embark on an epic journey to find a new home ... ultimately learning that their true home is literally out of this world!" They find an artifact known as "The Thing" which teaches them about their secret history and make plans to return home. Screenplay is being written by Slumdog scribe Simon Beaufoy. The film has been in development at the studio since at least 2001, originally with Shrek director Andrew Adamson attached to write and direct, but went on to helm Shrek 2 instead before moving on to The Chronicles of Narnia films.
[no photo]
2013: (unconfirmed) DreamWorks Animation's The Croods
Chris Sanders and Kirk DeMicco's caveman comedy The Croods (formerly titled Crood Awakenings) which was once set up with Aardman Animation. "An old school caveman must lead his family across a volatile prehistoric landscape in search of a new home. The outsized flora and fauna are challenge enough, but the real complication arises when the family is joined by an alarmingly modern caveman whose search for "tomorrow" is at odds with our hero's reliance on the traditions of yesterday." Sanders has described the project as: "The idea of having all the modern conveniences and social structures that we're familiar with gone and being left with just a pure form of people was really fun to imagine working with."
2013: (unconfirmed) Tintin 2
The second film in a planned series of 3D performance capture movies based on the character. Peter Jackson is scheduled to direct, and a third film has been announced, but no director is yet attached.
header photo credit: lightspeeddesign