Kevin Smith Talks About Hit Somebody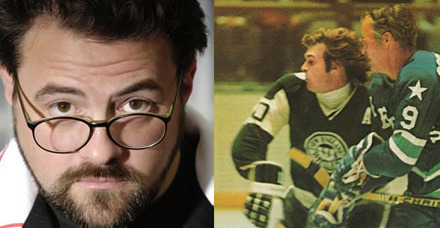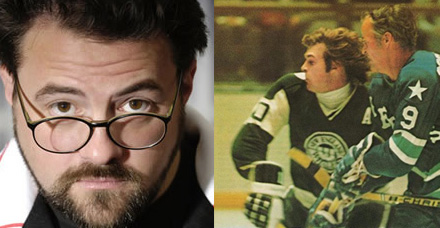 In May, Kevin Smith announced that he was developing a movie based on the Warren Zevon song, Hit Somebody (The Hockey Song), which was co-written by sportswriter and Tuesdays with Morrie author Mitch Albom, and featured the backing by The Late Show's CBS Orchestra, anchored by Paul Shaffer.
With Stern on vacation, I've finally found some time to catch up on some of my favorite podcasts, which includes Smith's Smodcast (highly recommended). In this past week's episode Smith talked a bit more about the plot of the film.
For those who missed it, here is a transcript:
The main character, Buddy, is a dude who loves Hockey. LOVES it. Sees the beauty in it. Wants to be that which he admires so much. He wants to be in the NHL and wants to play hockey. And he gets a chance to play Hockey but not the way he wanted to. The thing is, the dude is insanely passionate about it but no damn good. And there was a way in, and that way was that the dude could fight. So he finally gets in... we're going to do it in the WHA (World Hockey Association). He gets to play professional hockey, but at the same time he doesn't get to play the professional hockey that he dreamed of playing. Because every hockey player, every kid dreams of scoring goals, taking it to the net, you're the hero and shit. No one dreams about "I'm the dude who fucking hits the guy so that the kid over there  can take the puck to the net." And the glory goes to that guy.
The song Hit Somebody (The Hockey Song), has been one of Smith's favorites for years, and he's always wanted to make a movie based on it.