VOTD: Ray Tintori's Death To The Tinman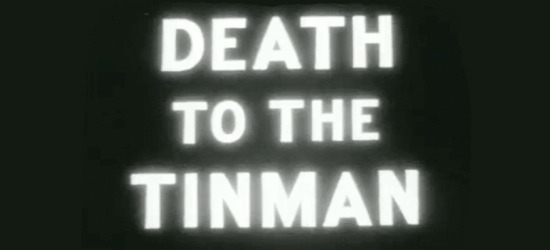 24-year-old Ray Tintori, directed Death To The Tinman as his undergraduate thesis film for Wesleyan University's Film Studies program. Highly inspired by Wes Anderson and Guy Maddin, the 12-minute black and white short film is a very loose adaptation of the origin story of the Tin Man from The Wizard of Oz. The short tells the story of a human lumberjack who is transformed into a metal man without a heart.
"Tintori transported the story's basic premise to a surreal, rural 1940s South, replacing Oz magic with evangelical mysticism; pastors, congregations, and the Rapture replace flying monkeys and witches melting upon contact with water."
The short premiered at the 2007 Sundance Film Festival, where it received an Honorable Mention for Short Filmmaking. It also played in the South by Southwest Film Festival and New York Film Festival. Tintori has gone on to a successful career directing music videos, working with MGMT, The Killers, Cool Kids and Chairlift. Ray is also currently developing a couple feature screenplays. Watch his short film, Death to the Tinman, after the jump.
Watch Death to the Tinman in Entertainment |  View More Free Videos Online at Veoh.com
Thanks to /Film reader Charlie C, WeLoveYouSo, and Lumen Eclipse for the tip.