Anne Hathaway To Edit, Romance Tobey Maguire In Tokyo Suckerpunch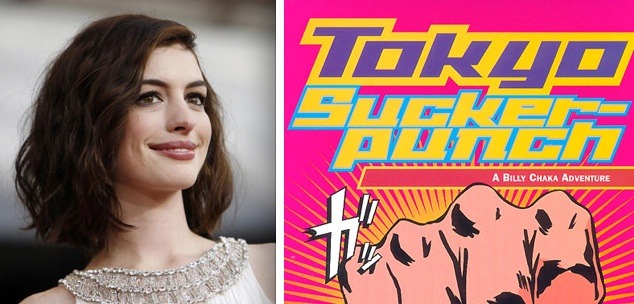 Tobey Maguire is producing and will star in an adaptation of Isaac Adamson's novel Tokyo Suckerpunch. Gary Ross, who worked with Maguire on Seabiscuit and Pleasantville, is set to direct. According to screenwriter Ed Solomon, who was speaking to Sci-Fi Wire, Maguire's love interest is going to be played by Anne Hathaway. Tobey's character is a graphic novelist who gets caught up in noir-tinted misadventure in Japan, while unexpectedly romancing his editor and learning some tough life lessons. More details in the full quote after the break.
Here's Solomon's explanation of Tobey's character Billy Chaka, and the basic plot premise for the picture:
He's a graphic novelist who lives in Cleveland and writes a graphic novel about himself that he sets in Tokyo. He has a certain fantasia of what Japan is and has a certain fantasia of what a real woman is. Neither exists in reality, but he goes off to Tokyo in pursuit of this fantasy woman... and he ends up in this adventure not dissimilar to the kinds of things he writes about. He goes there with his editor, to be played by Anne Hathaway, and ends up it's a love story about him and Anne Hathaway, basically, and it's really about a guy figuring out what matters to him.
I'd believed until now that Reese Witherspoon – another Pleasantville alum – was up for part of Sarah, the editor. Either of the two would be great for the role, I think. Most importantly, though, it seems that the film is definitely still on if casting, or re-casting, is afoot.
The plan with the film is to use several animated sequences, most likely provided by a genuine anime studio. Though nobody has ever confirmed that these are for realising the graphic novel-within-the-film, at least to the best of my knowledge, that does seem most likely. Ross has spoken about his excitement at tapping into an anime style and how he can see the approach integrating with the live action footage very successfully.
Besides developing this picture as a director, Gary Ross has been scripting the Creature From the Black Lagoon remake. That movie recently lost Breck Eisner as a director which might – just might – have a trickle-down effect on what happens next with Tokyo Suckerpunch. Whatever happens, it needs to happen soon or not for a good long time – Maguire's going to be needed back in the Spider-Man suit just seven short months from now.