Chuck Renewed, Sarah Connor Chronicles Gets Canned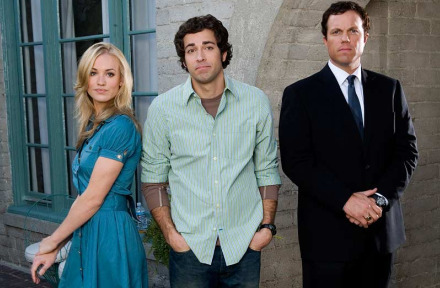 It looks like Chuck fans can rest easy. NBC has announced tonight that it will be renewing the show for a third season, though it will receive a shortened 13-episode season along with other possible budget reductions. Ausiello reports that the show may lose a cast member, and possibly two staff writers as well. Given that the series has many secondary characters, I'm thinking we could easily lose someone without affecting the core of the show at all. The writer cut also makes sense given the shortened season run.
Terminator: The Sarah Connor Chronicles fans unfortunately have less to celebrate. While I can't find any other sources corroborating this, Ausiello has updated the show's status on his fall tv cheat sheet to "officially cancelled." Given that he already reported that the show was pretty much down for the count last month, the show's fate is not all that surprising. As a person who appreciated the series, I'm saddened to see the show go.
While we've lost some good television shows this season, I'm heartened to see the likes of Chuck, Dollhouse, and Friday Night Lights survive. It gives me the (possibly naive) hope that good television shows may actually get recognized for their quality—instead of constantly being threatened by ratings numbers.
Discuss: Are you happy about the Chuck renewal? Do you think Sarah Connor Chronicles deserved another chance? Was Dollhouse the better choice for Fox?