The Brothers Bloom Video Clip: "The Mark"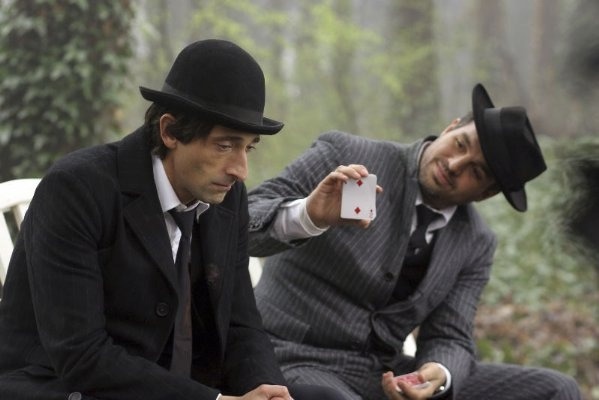 Summit Entertainment has released a new clip from Rian Johnson's The Brothers Bloom. If you're already planning to see the film (which I hope is the case), I would recommend saving the experience for the big screen and not watching the video. The two minute-long clip, titled "The Mark", shows the brothers, played by Adrien Brody and Mark Ruffalo, make their first attempt to trick an unsuspecting victim, played by Rachel Weisz. It gives you a good idea of the tone of comedy to expect. The clip is embedded after the jump.
Welcome to the world of The Brothers Bloom, where deception is an art and nothing is as it seems. The brothers have perfected their craft through years of fraternal teamwork. Now they've decided to take on one last spectacular job—luring a beautiful and eccentric heiress into an elaborate plot that takes them around the world.
For as long as they can remember, the Brothers Bloom have had only each other to depend on. From their childhood in a long series of gloomy foster homes to their highflying lives as international con artists, Stephen (Mark Ruffalo) and Bloom (Adrien Brody) have shared everything. Stephen brilliantly concocts intricate stories that the brothers live out, but he's still searching for the perfect con, the one where "everyone gets what they want." Meanwhile, Bloom yearns for "an unwritten life"—a real adventure, one not dreamed up by his older brother.
Eager to retire, Bloom agrees to take part in one last grand scam. He insinuates himself into the life of Penelope (Rachel Weisz), a bored, single New Jersey heiress.  When a genuine romance begins to blossom between them, he is reluctant to exploit her naiveté, but Penelope has already taken the bait: She impulsively joins Bloom, Stephen and their "associate," a sexy Japanese explosives expert named Bang Bang (Rinko Kikuchi), on an ocean liner to Greece. Penelope is convinced she's happened upon the adventure of a lifetime and offers to bankroll a million dollar deal. As the quartet makes its way from Athens to Prague to Mexico to St. Petersburg, Penelope quickly becomes addicted to the illicit thrills. But as Stephen's elaborate web of deceit pulls tighter, Bloom begins to wonder if his brother has devised the most dangerous con of his life.
The Brothers Bloom hits theaters in New York and Los Angeles this Friday, and nationwide on May 29th.