Jim Carrey Takes The Beaver From Steve Carell?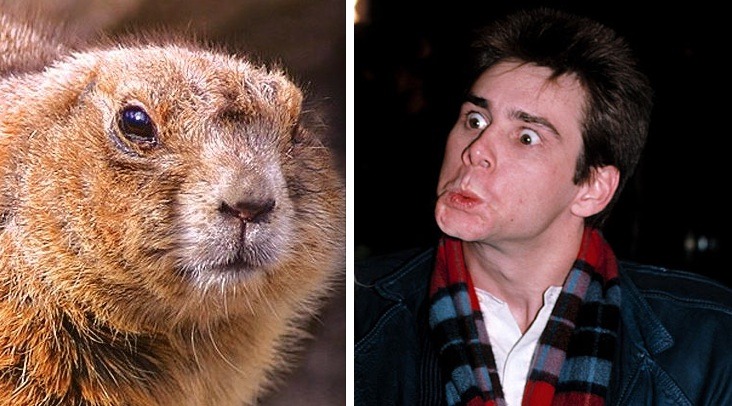 One of the few very best screenplays I have ever read was Kyle Killen's 2008 Black List topper, The Beaver. At the time I read it, Steve Carell was attached to star and Jay Roach was in talks to direct. Roach, I might ho-hum about but Carell struck me as an absolute perfect choice. Now it seems that both Carell and Roach have moved on and the producers are courting Jim Carrey for the lead. However, The Hollywood Reporter are suggesting that Carrey signing on is conditional on the contracting of a suitable director.
Who ever takes the lead role will in fact end up getting two lead roles. Not only will they be playing Walter, troubled father and husband and CEO of a stalling toy company, they will have to give voice to The Beaver, a glove pupper that Walter finds, starts to wear without pause, and adopts as a kind of avatar through which he carries out all of his communication. Almost all of the dialogue given to the lead actor throughout the entire screenplay will have to come from the Beaver, and be delivered in what Killen describes as a "crisp English accent".
I did already give the script an absolute rave elsewhere on the web, before my /Film days, and I stand by my abundant praise. This screenplay deserves the hype and attention – not to mention, a fantastic lead and wonderful director.
Carrey has a back catalogue of fascinating projects that explore similar ideas and it seems reasonable to guess he's particularly interested in these kinds of existential head-twisters. His The Truman Show, Man in the Moon and Eternal Sunshine of the Spotless Mind roles all share some overlap with this part – though, on the other hand, there are certain elements of the character here that seem exceptionally well matched with Carell. In the final evaluation, I suppose, the film will be slightly different with either lead, but should end up equally fascinating.
There's only one potential director listed in the Hollywood Reporter piece, and it's and unexpected one: Jodie Foster. It seems she's only one contender from at least a handful, but also definitely a curious and interesting choice. I can't help but assume she pursued this project and approached the producers rather than the other way around but there's a lot to be said for Little Man Tate and Home For the Holidays, so there's a fairly good chance she's also the best director in the running.
My top tip to all involved, however, is to have Pixar's Jeff Pidgeon moonlight on the Beaver design. He's good with Beavers.