24 Goes To New York City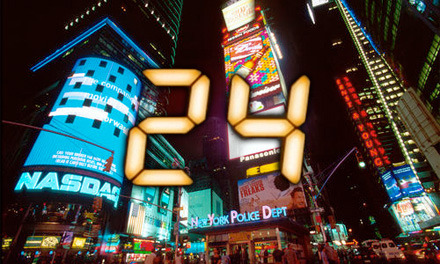 After an atomic jump-the-shark sixth season, 24 has bounced back with this season's Washington DC-based storyline (last night's illogical twist might have tainted everything... we'll see). But most people agree, moving the show out of Los Angeles to the nation's capital gave the series some much needed new landscape. In retrospect, it's shocking to me that the show didn't change locations after the second or third seasons. And now Entertainment Weekly is reporting that season 8 (or is it "Day 8") of 24 will take place in New York City.
Of course, much like this season's DC-based episodes, most of the production will take place in Los Angeles, with a second unit shooting some scenes and location footage in Manhattan. Also, CTU will return under the direction of a yet-to-be-cast character named Brian Hastings, who is described as "an MBA type with a razor sharp intellect". Also joining the cast will be two new twentysomething agents (one male, one female), as well as (possible spoiler warning, highlight the invisotext to reveal) Mary Lynn Rajskub's returning Chloe.
This year's DC-set plot allowed them to do a (spoiler)  invasion of the White House, and now that the series is being relocated to New York City, I'm sure we'll see at least one tentpole action sequence set up at one of the many famous landmarks in the city. Discuss this in the comments, and I'm also declaring the comments to be open for spoilers — so if you want to complain about last night's twist, go ahead.
source: EW