Sam Raimi Talks Spider-Man 4 And Evil Dead Remake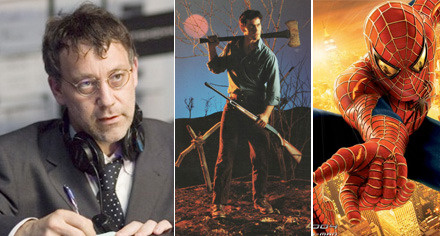 Sam Raimi is at SXSW showing off an early cut of his new horror film Drag Me To Hell. While doing press, Raimi gave updates on Spider-Man 4 and the future of the Evil Dead franchise.Spider-Man 4: Raimi tells MTV that while there has been talk of a fifth film, he is currently only developing "just that one film", Spider-Man 4. Tobey Maguire is set to return, but no announcement has been made regarding Kirsten Dunst. Raimi insist that he "can't imagine making a Spider-Man movie without Kirsten". And while he wouldn't reveal any plot details, he did confirm that they are "working from all the material in the comic books and nothing [invented] outside of that." And he tells IGN that he is "in the earliest stages of working with the writer," and is "closing in on Spider-Man's adversary or adversaries."
The director also tells IGN that he has been talking with his partners about "having a young director come in and remake Evil Dead." The reason he gives for the remake is that the original film was made "in 16mm on a shoestring budget" with mono sound, and he would like to see what Evil Dead would look like with a real budget and real effects.
"It was always meant for the big screen, but never really seen on the big screen," Raimi tells IGN. "What you could do with it now would be so much better."
But isn't the low budget nature of Evil Dead much of the charm that makes the film work? The crazy camera rigs that Raimi put together, and the magic that came out of having to think creatively? I'm also not sure I want to see another director helm an Evil Dead film.