Geek Deal: United Artists 30-Film Deluxe Giftset For $107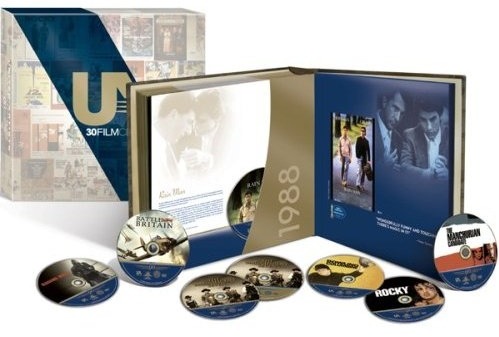 We may receive a commission on purchases made from links.
In a past edition of Cool Stuff, we featured the United Artists 90th Anniversary Prestige Collection, the biggest and most elaborate DVD box set we had ever seen. United Artists also released a smaller, 46-disc edition of the box set called the United Artists 30-Film Deluxe Giftset. The reason why I'm writing about this at 1:00am on a Saturday morning is because Amazon has the Deluxe Giftset as the Gold Box Deal of the Day. The set is being sold for the next 23 hours for $106.99, 63% off the $290 MSRP.
Films include: Marty, Twelve Angry Men, Some Like It Hot, The Alamo, The Apartment, The Magnificent Seven, Judgment at Nuremberg, Westside Story, Birdman of Alcatraz, Dr. No, Manchurian Candidate, The Great Escape, The Pink Panther, The Greatest Story Ever Told, The Good, The Bad and The Ugly, Chitty Chitty Bang Bang, Thomas Crown Affair, The Battle of Britain, Midnight Cowboy, Fiddler on the Roof, Rocky, Annie Hall, A Bridge Too Far, The Spy Who Loved Me, Raging Bull, Rain Man, Manchurian Candidate, Goldeneye, The Birdcage, Bowling for Columbine, and Hotel Rwanda.