First Look: Aubrey Plaza And The Bands Of Scott Pilgrim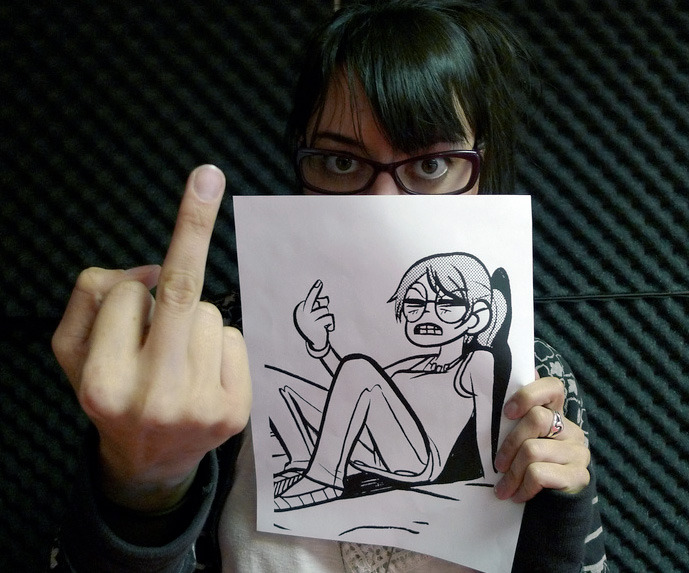 You might not know who Aubrey Plaza is right now, but you will soon enough. The Upright Citizen's Brigade comic was featured in the Sundance comedy hit Mystery Team and has co-starring roles in Judd Apatow's Funny People and Edgar Wright's Scott Pilgrim vs. The World. Speaking of which, it has been quite a while since we last posted an update on the comic book adaptation. Today, Wright posted the first photo of Plaza (seen above), who plays Julie Powers, the obnoxious on-off-on-again girlfriend of Stephen Stills, the lead singer and guitarist of Scott's band, Sex Bob-omb, and Stacey Pilgrim's (Anna Kendrick) coffee shop co-worker. And guess what? You can see the first photo of the band rehearsing after the jump, as well as a photo from and their rivals — The Clash At Demonhead.
First up we have Michael Cera learning some of the music he will be playing in the film, practicing with Chris Murphy from Sloan.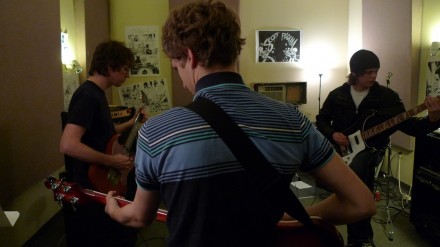 Sex Bom-omb (an obvious Super Mario Bros homage) consists of Scott Pilgrim (Michael Cera), Stephen Stills (Mark Webber), Young Neil (Johnny Simmons), and Kim Pine (initially rumored to be Alison Pill from Milk).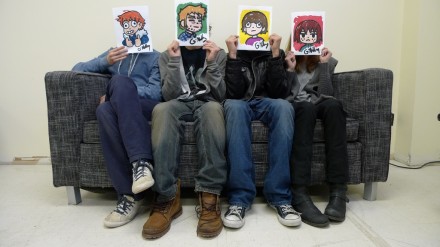 The Clash At Demonhead consists of Todd Ingram (Brandon Routh), Lynette Guycott (I'm not sure who this actress is but Bryan Lee O' Malley said on Twitter that she is not well known), Scott's ex-girlfriend Envy Adams (Brie Larson).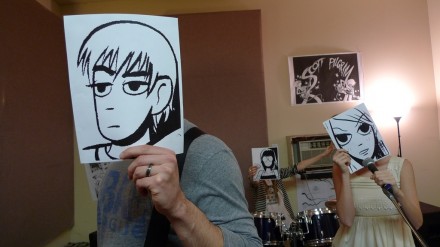 And as a special bonus, I leave you with this photo of director Edgar Wright, killing off Death Eaters, or possibly just posing for a photo with a neon purple light shining on his outreached arm. Who knows if this is a test for a sequence in the film, or Edgar just having fun (as he often likes to do).