This Week In DVD: Role Models, Milk, South Park (Season 12), Transporter 3, And More
We may receive a commission on purchases made from links.
This Week in DVD is a column that compiles all the latest info regarding new DVD releases, sales, and exclusive deals from stores including Target, Best Buy and Fry's.Please don't take the commentary on the movies and TV shows too seriously, as they're meant not to be reviews but rather previews that include the general thoughts and ramblings of a twice-committed DVD addict. The categories represent solely the author's intentions towards the DVDs at hand, and are in no way meant to be a reflection on what he thinks other people should rent or buy. So if he ends up putting a movie you like in the "Skip it" section without having seen it, please keep in mind that the time you could spend leaving a spiteful but ultimately futile comment could instead be used for more pleasant things in life. Like buying DVDs.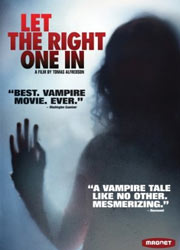 LET THE RIGHT ONE IN
If you're looking for a vampire movie to help wipe away the embarrassing display of inanity that came with last year's Twilight, look no further. This bizarre Swedish horror tale of love and revenge ranked #6 on my top ten favorite films of 2008, and I'm clearly not the only one who believes it's deserving of such praise. It may not be the first film to offer its own unique twist on the vampire genre, but it's easily one of the best, providing an intimate and compelling study of its two young characters while always making sure the heart-stopping moments are never too far away. Rest assured, there are scenes in this movie that will stick with you for weeks to come.
Blu-ray? Yes.Notable Extras: Deleted scenes, a behind the scenes featurette, and a poster gallery.
BEST PRICE
Target
Best Buy
Fry's
$18.99
$19.99
Amazon – $18.99
SOUTH PARK (SEASON 12)
I own every season of South Park currently available on DVD, and I don't plan on stopping now. Even in its weaker seasons, the show remains consistently funny enough to warrant repeat viewings of just about all its episodes, and there's almost always one or two standout episodes to help remind us how hilariously brilliant Trey Parker and Matt Stone can sometimes be. Season 12 is no different. That said, Season 12 is also by far the show's worst season to date. Unlike past seasons, none of the episodes here are necessarily awful (such as with A Million Little Fibers in Season 10, or D-Yikes! in Season 11), but at the same time, they're not nearly as memorable either. For me, this season's standouts were Major Boobage, Breast Cancer Show Ever and Elementary School Musical. The rest of the batch features some truly great individual scenes (Randy's "computer time" in Over Logging) and running gags (Indiana Jones being raped in The China Probrem), but sadly, these moments are buried within an otherwise forgettable (and oftentimes repetitive) collection of episodes. Here's hoping Season 13 returns to the highs of previous seasons.
Blu-ray? Yes.Notable Extras: Well, this is new! In addition to the mini commentaries from creators/writers Trey Parker and Matt Stone (which have usually been the only special feature to be offered on past seasons), Season 12 also includes uncensored episodes and 3 featurettes (Six Days to South Park – A Day-by-Day Making of South Park, Six Days to South Park – The Sixth Day (About Last Night), The Making of "Major Boobage"). I assume this is due entirely to the set also being released on Blu-ray.
BEST PRICE
Target
Best Buy
Fry's
$32.99
$30.99
$29.99
Amazon – $30.99
EXCLUSIVE DEAL:What? Free $5 Target GiftCard with either DVD or Blu-ray.Where? Target.EXCLUSIVE DEAL:What? "Guide to Life" Quote Book.Where? Best Buy.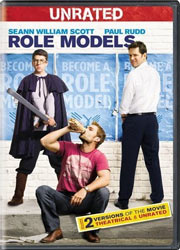 ROLE MODELS
I find it amusing that (due possibly to my man-crush on Paul Rudd) I seemed to be the only one defending this movie prior to its release, and now that it's come out and just about everyone has been showering it with praise, I can't help but feel maybe people are being a little too gracious. Don't get me wrong, I definitely think Role Models is a solid comedy. It's got plenty of laughs and is entertaining all the way through; but that's all. The script replies much more on curse words and one-liners than genuine wit, and the story follows the same layout as a dozen comedies before it. The movie takes zero chances, and is wholly predictable. Basically, it's as standard as you can possibly get without having a PG-13 rating. I'm not saying any of this is necessarily a bad thing, since, as I already stated, it's funny, and that's really the most important thing you can ask for in a comedy. Even so, I can't really see myself feeling the need to add the film to my collection any time soon. Rent it, enjoy it, forget it.
Blu-ray? Yes.Notable Extras: Both theatrical and unrated cuts are included, as well as commentary with director/co-writer David Wain, featurettes (On the Set of Role Models, Game On: Creating a Role Playing World, In-Character & Off Script), deleted scenes and alternate takes, and bloopers.
BEST PRICE
Target
Best Buy
Fry's
$16.99
Amazon – $16.99
EXCLUSIVE DEAL:What? Free $5 Best Buy Gift Card when you buy any version of Role Models with either Forgetting Sarah Marshall ($14.99) or In Bruges ($14.99).Where? Best Buy.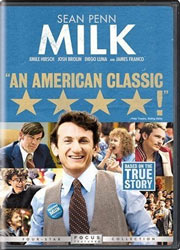 MILK
While I do support their ability to draw attention to people and issues that audiences might've previously been unfamiliar with, I'm of the opinion that most biopics are rather unnecessary. My rule of thumb is, if the biopic wouldn't still be interesting were it not based on a true story, then the topic is probably better suited for a documentary than a movie. I go to movies because I want to see engaging stories told in an interesting way, not to see a straightforward account of a person's life. And while I do think Milk is an admirable and well-made effort (aided largely by Sean Penn's excellent performance), I couldn't help but be underwhelmed at how utterly conventional it is. On top of that, I felt that much of the supporting cast was underutilized and their characters poorly developed, leaving it solely to Penn to carry the film. Of course, I'm clearly in the minority who felt this way, so please don't take my word for it. I will say though, even the critics would probably agree with me that there's a better alternative.
Blu-ray? Yes.Notable Extras: Deleted scenes and 3 featurettes (Remembering Harvey, Hollywood Comes to San Francisco, Marching for Equality).
BEST PRICE
Target
Best Buy
Fry's
$16.99
$19.99
Amazon – $17.99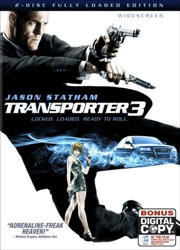 TRANSPORTER 3(Available as single-disc and 2-Disc Fully Loaded Edition)
I have a soft spot for the Transporter series. What they may lack in story, intelligence, and anything resembling logic, they more than make up for in Jason Statham beating the hell out of people in a variety of outrageous and creative ways. If that's not enough to sell you, then these aren't the movies for you. Admittedly, I never got around to seeing Transporter 3 in theaters (the trailers didn't look all that great, and the reviews pretty much confirmed that it's the worst of the trilogy), but now that it's available to rent, what's there to lose? ...You know, other than two hours of your time and a substantial amount of brain cells.
Blu-ray? Yes.Notable Extras: The single disc includes no special features, while the 2-disc includes: audio commentary with director Olivier Megaton, "Special Delivery: An Inside Look at Modern-Day Transporters" featurette, Behind-the-Scenes Bonus Footage (featuring: Storyboards, Sets/Production Design, Special FX), "Making of Transporter 3" featurette, and a digital copy of the film.
BEST PRICE*
Target
Best Buy
Fry's
$16.99
Amazon – $16.99
*Does not include 2-Disc Edition, which costs $22.99 at each of the listed stores (including Amazon).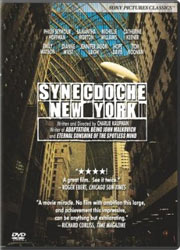 SYNECDOCHE, NEW YORK
How the hell do I even begin to prepare myself for this movie? As a major supporter of Charlie Kaufman's work (to those that don't know him, he's the fantastic–and probably insane–Oscar-winning screenwriter behind such films as Eternal Sunshine of the Spotless Mind, Adaptation. and Being John Malkovich), I was incredibly disappointed to find the closest theater playing this film to me close to an hour drive away. But now, my wait is over. And again I ask... how do I prepare myself for this? This is a film that's so divided amongst critics, its Rotten Tomatoes round-up results in its first review quote labeling the film "a pretentious, witless disaster", while only a few sentences away there's another that states it "might be the best film of 2008". Should be an interesting experience, to say the least.
Blu-ray? Yes.Notable Extras: Featurettes (The Story of Caden Cotard, Infectious Diseases in Cattle: Bloggers' Round Table, NFTS/Script Factory Masterclass with Charlie Kaufman), and Screen Animations.
BEST PRICE
Target
Best Buy
Fry's
$19.99
Amazon – $19.99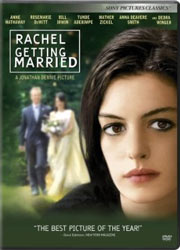 RACHEL GETTING MARRIED
As I already stated on the /Filmcast, Rachel Getting Married is the type of movie I can appreciate and acknowledge is a quality piece of cinema more than I can say I actually liked. I'm very aware of its merits: it offers an interesting and intimate display of family dynamics, has an uncommonly realistic stylistic approach, and features a few wonderful performances (with Anne Hathaway's Oscar-nominated turn of course being the standout). Yet even as I recognized these things, I kept returning to the same types of questions in my head: "Why should I care about these people?", "What is it that makes their story worth telling?", etc. For many, the answers to these questions will be obvious, since they'll be able to relate to the struggles of the characters. I, however, could not.
Blu-ray? Yes.Notable Extras: Commentary with actress Rosemarie DeWitt, a second commentary with producer Neda Armian, screenwriter Jenny Lumet and editor Tim Squyres, 2 featurettes (The Wedding Band, A Look Behind the Scenes of Rachel Getting Married), deleted scenes, and a Cast and Crew Q&A at the Jacob Burns Center.
BEST PRICE
Target
Best Buy
Fry's
N/A
$19.99
Amazon – $19.99
HAPPY-GO-LUCKY
I don't know what it is about this film that makes me want to see it. For many, I assume the biggest selling points are probably Sally Hawkins' award-winning performance and the fact that the film comes from six-time Oscar-nominated writer/director Mike Leigh. (Not to mention, the reviews have been stellar.) For me though, I think it might just be that the film is an intimate indie character study that's about, shockingly enough, someone who's happy. How rare is that?
Blu-ray? No.Notable Extras: A commentary by director Mike Leigh, and 2 featurettes (Behind The Wheel Of Happy-Go-Lucky, Happy-In-Character).
BEST PRICE
Target
Best Buy
Fry's
N/A
$19.99
Amazon – $19.99
EXCLUSIVE DEAL:What? Save $8 when you buy Happy-Go-Lucky and The Boy in the Striped Pajamas on DVD.Where? Best Buy.
THE BOY IN THE STRIPED PAJAMAS
While I'm sure that "Really? Another movie about the Holocaust?" is a generally frowned upon response to films dealing with the tragic horrors of World War II, I'd be lying if I said that the first thing that came to mind when finding out about The Boy in the Striped Pajamas was, "Oh, sweet! Another movie about the Holocaust!" (...Although, in retrospect, I realize that a response like that would probably be even more severely frowned upon, and for good reason.) Even so, I'm still curious to check it out, if only because it apparently contains a twist so distastefully manipulative that it single-handedly destroys all the good will the film had garnered beforehand. Consider me intrigued.
Blu-ray? No.Notable Extras: Audio commentary by writer/director Mark Herman and author John Boyne, a featurette (Friendship Beyond The Fence), and deleted scenes.
BEST PRICE
Target
Best Buy
Fry's
$19.99
Amazon – $19.99
EXCLUSIVE DEAL:What? (Same as above.) Save $8 when you buy Happy-Go-Lucky and The Boy in the Striped Pajamas on DVD.Where? Best Buy.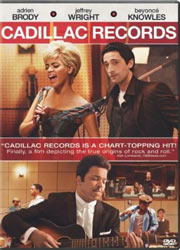 CADILLAC RECORDS
I have a hard time believing this movie would exist if it weren't for Dreamgirls. It's not like there was anything particularly compelling about its trailer. In fact, after having watched Walk Hard so many times, this movie looks so generic that it's halfway to the point of parody. Not even the mostly positive reviews are enough to help me muster the interest necessary to give this film a rent. Maybe you guys can be more persuasive in the comments. What say you? Is the film worth watching?
Blu-ray? Yes.Notable Extras: Commentary with writer/director Darnell Martin, 2 featurettes (Playing Chess: The Making of Cadillac Records, Once Upon a Blues: Cadillac Records by Design), and deleted scenes.
BEST PRICE
Target
Best Buy
Fry's
$19.99
Amazon – $19.99
Other noteworthy DVDs available this week...Pinocchio (2-Disc 70th Anniversary Platinum Edition) – Battle in Seattle – Ben X – Primal Fear (Hard Evidence Edition) – Howard the Duck (Special Edition) – Escape to Witch Mountain – Return from Witch Mountain – Get Smart (Season 2)

NOTE: Some deals may be in-store only.

Exclusive: DVD for Pinocchio (70th Anniversary Edition) ($16.99) includes free Pinocchio music CD on pack.

Exclusive: Free collectible 3D cup when you buy either version of Pinocchio (70th Anniversary Edition) (DVD – $16.99, Blu-ray – $25.99).$16.99 – Pushing Daisies (Season 1), and more...$19.99 – Entourage (Season 4), It's Always Sunny in Philadelphia (Season 3), Arrested Development (Season 2), Veronica Mars (Season 3), Birds of Prey (Complete Series), and more...$29.99 – CSI (Season 8), CSI: Miama (Season 6), and more...$6.99 – Clerks II (2-Disc Edition), Family Guy: Blue Harvest, and more...