Will Russell Brand Join Pirates Of The Caribbean 4?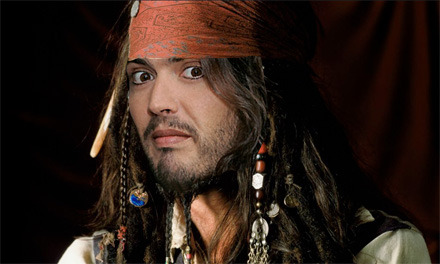 Last year it was rumored that Russell Brand (Forgetting Sarah Marshall) was in talks to play Captain Jack Sparrow's (ie Johnny Depp) brother in the next Pirates of the Caribbean movie. We didn't pick up the story at the time because it seemed dubious, especially since the source was one of those UK gossip newspapers. Well apparently there might have been some truth to it after all.
Brand admits to Access Hollywood that "there's been some talk of doing a Pirates movie" but that his plate is already full with "eight other things" including the Forgetting Sarah Marshall spin-off film Get Him To The Greek. And last we heard, producer Jerry Bruckheimer was targeting a 2012 release. So while Brand doesn't "know if there'll be time to be a pirate," he admits that "it's a possibility." Brand definitely has the whacked-out sense of humor which, in theory, you would imagine could be inherent in Sparrow's bloodline.
Discuss: Would you like to see Russell Brand as Jack Sparrow's Brother?