William Monahan To Direct The Art Of The Heist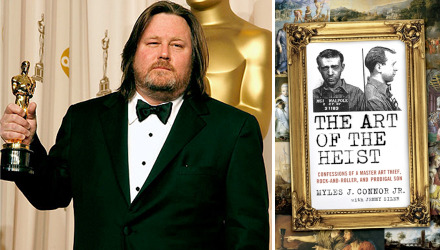 We may receive a commission on purchases made from links.
The Departed screenwriter William Monahan has more projects on his plate than Guillermo del Toro, but the scripter hopes to direct a movie based on the career criminal Myles Connor. Producer Quentin Curtis has acquired Myles' upcoming memoir The Art of the Heist which will be published in April by Harper Collins (the 304-page book is already available for preorder on Amazon for about $18). Got to admit, it's a cool title.Variety says it is unclear if Monahan will also pen the screenplay adaptation for Heist, but it seems like a given to me. Monahan is unproven as a director. I'm not saying he's going to be a good one, I'm just saying he doesn't have a film under his belt yet. And Monahan seems like the kind of guy who wants control over the script (which is not a bad thing, as I prefer writer/directors). Monahan will make his directorial debut with an adaptation of the Ken Bruen novel London Boulevard, which begins shooting in June.
The official book description follows:
From New York's Metropolitan Museum of Art, to the Smithsonian Institution in D.C., to Boston's Museum of Fine Art, to dozens of regional museums throughout the United States, no museum was off-limits to leg­endary art thief Myles Connor. He has used every technique in the book, from breaking and entering, to cat burglary, to false identities and elaborate con jobs. He once even grabbed a Rembrandt off a wall in broad daylight and simply ran like hell. His IQ is at genius level, and his charm is legendary. The fact that he was in jail at the time of the famous robbery of the Isabella Stewart Gardener Museum—which remains the largest art theft in American history—has not stopped the FBI from considering him a top suspect in that still unsolved robbery.
How did the son of a decorated policeman grow up to become one of Boston's most notorious criminals? How did he survive a decades-long feud with the Boston police and the FBI? How did he manage to escape one jail sentence with a simple fake gun carved out of soap? How did he trade the return of a famous Rembrandt in exchange for early release from another sentence? The Art of the Heist is a roller-coaster ride of a life, by a man who was drawn to misadventure at every turn. As a promising young rock star, Myles Connor started collecting Japanese swords and weapons. Soon his collection expanded through less than legitimate means, and his education in European masters and modern artists accelerated. Disguised as an art collector, he spent time in the archives of museums far and wide, and visited after hours to take advantage of what he learned by day.
Along the way, he robbed banks, warehouses, trailers, and estate homes. He engaged in rooftop shootouts with the police. He walked the streets of Boston in disguise while dozens of policemen were out searching for him. The Art of the Heist is part confession, part thrill ride, and impossible to put down.