Brian Bendis' Powers Bypassing Big Screen, Headed To Small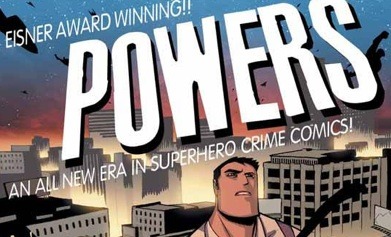 For a while, Brian Bendis' comic book series Powers was looking to be a big-screen adaptation. Back in 2001, Sony had several drafts drawn up and Frank Oz was, if I remember correctly, attached to direct. Bendis wasn't too pleased with how the project was going, however.
He tells MTV's Splash Page, "We had to sit through waves of screenplays that were just inappropriate for the product, and for fans of the book. There were whole drafts of the screenplay without Deena Pilgrim in them. They'd hand me the screenplay and go, "What's wrong with this?" and I'd go "He has no one to talk to!""
Sounds odd – normally the sidekick is something inserted by studios in these anecdotes, not the first character to get the axe.
That misbegotten run at things has long since gone off track however, and when Bendis yesterday promised on Twitter that some big news was forthcoming, I assumed it would be another attempt to mount the film for the big screen.
Nope. This time, possibly eased along by the relative success (and imminent failure) of Heroes, the show that many have accused of simply leeching on Bendis' work, Powers is headed to television and Bendis himself has written the pilot.
"I just handed in a draft to the network and we're getting our notes from the network as soon as this thing is over. So next week I'll get the notes, and as long as they don't involve sock puppets and some sort of orgy scene that I'm not interested in, then hopefully it will go in the right direction."
"This thing" is the NYCC, the network is FX. OK? Too many abbreviations, KWIM?
Powers, if you don't know, is essentially about buddy cops investigating superpowered criminals. The week-to-week format is clear, the potential for series arcs inherent and, frankly, good writing and casting could make this a smash. Shame we probably can't expect the comics' Madman and Savage Dragon cameos.
Do you think a more readily viewed network might have made a better home for Powers (that is to say, a home with deeper pockets) or will the relatively low ratings expectations someplace like FX do the show some favours?
Embedded below is the Powers short film that was once posted on Jinxworld:
[flv:http://bitcast-a.bitgravity.com/slashfilm/trailers/powers.flv 320 240]