McG Hints At Arnold, Sarah Connor Appearances In Terminator Salvation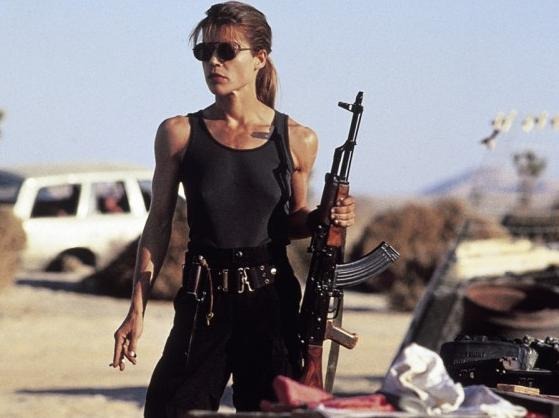 Rumors of cameo appearances in Terminator Salvation refuse to die. E! online reports that at a New York preview screening of the film on Monday, McG was asked by producer Dan Lin what surprises the film might have in store, to which he responded, "I can't talk about it. I can't talk about the governor of California." I wonder what he was getting at exactly...
On top of that, we've also heard from Coming Soon reporting from the same event that there's a possibility Sarah Connor might appear in the series: "After the presentation was over, we talked with McG at the cocktail reception that followed and asked him whether he planned on doing any sort of recap of the first two movies as an introduction for those who didn't get a chance to see them. He said they were still trying to figure out what to do, but one option they came up with was to have Sarah Connor do a voiceover to open the movie."
Certainly the Terminator franchise is no stranger to Sarah Connor voiceovers, and opening the film with Connor talking about the inevitability of the future or something like that would probably keep with the tone of the series. McG has said in the past that the new film will not follow the mythology set forth by The Sarah Connor Chronicles so it seems unlikely that Lena Headey, who plays Connor in the series, would be involved. If McG chooses to go the Connor voiceover route, it seems remotely possible that Linda Hamilton might reprise her role, but I wouldn't be surprised if he went in another direction either.
Finally, Latino Review has a massive write-up of the whole thing, with tons of juicy details about the film and its production (with potential spoilers). Some highlights:
Actor Christian Bale told Jonathan Nolan, the film's co-writer, that if the script could be performed as a straight stage play, he would commit to appearing in it.
The new film will adhere to the timeline set forth in Terminator 3 but not The Sarah Connor Chronicles
McG expects Elfman's score to have a "a Wagnerian quality as well as use most of [T1 and T2 composer] Fiedel's themes and ambient sounds."
Although the story will feature John Connor prominently, it will primarily center around the development of Kyle Reese's character, who will be played by Anton Yelchin.
Head on over to Latino Review to read the full story.