10 Things You Should Know About Hairspray 2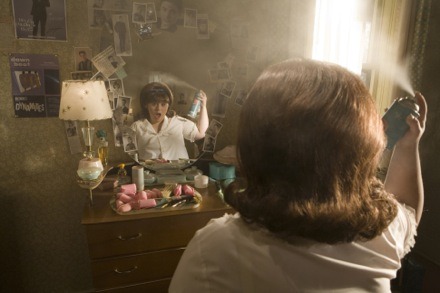 Over the past couple months, MTV has had a lot of coverage of the announced Hairspray sequel. I thought that since we haven't reported on the film since the project's earliest announcement, that now is a good time to bring together all the facts:
1. John Waters has written a crazy treatment for the sequel called Hairspray 2: White Lipstick.
2. Hairspray director/choreographer Adam Shankman and songwriters Marc Shaiman and Scott Wittman are also set to return
3. The story will look at Tracy's entering the late '60s era of music, set against the backdrop of the Vietnam War and the British invasion. "We're trying to track, in a comedic way, the historical elements," Shankman told EW.
4. Tracy (Nikki Blonsky) is hated because she's now famous but doesn't lose weight.
5. Link (Zak Efron) gets a mop-top Beatles hairdo and tries to masquerade himself as a member of the British Invasion in an attempt to remain hip. The hair causes three pimples to spawn on his forehead, which he has "an ongoing dialogue" throughout half the movie. He also somehow accidentally experiments with acid. Shankman later said that Link's drug storyline probably won't make it into the final film.
6. Edna (John Travolta) gets hooked on diet pills, actually loses weight, but sees her husband (Christopher Walken) lusting after fat women. Shankman told MTV, "she finally breaks down and runs over to a snack table. Just within one number, she gets fat again; gaining 20 pounds at a time. [Her fat] pops out, and by the end of the song she's completely at her old weight again."
7. Velma Von Tussle (Michelle Pfeiffer) will likely not appear in the sequel due to the introduction of a new villain.
8. Someone gets drafted into war, but it isn't Link.
9. New Line/Warner Bros has yet to official announce any actors/actresses for the sequel, but they have said that they hope to keep most of the original cast.
10. The film is tentatively scheduled to hit theaters in mid-July 2010.