This Week In DVD: Burn After Reading, Hamlet 2, Death Race, American Teen
We may receive a commission on purchases made from links.
This Week in DVD is a column that compiles all the latest info regarding new DVD releases, sales, and exclusive deals from stores including Target, Best Buy, Circuit City, and Fry's.
Please don't take the commentary on the movies and TV shows too seriously, as they're meant not to be reviews but rather previews that include the general thoughts and ramblings of a twice-committed DVD addict. The categories represent solely the author's intentions towards the DVDs at hand, and are in no way meant to be a reflection on what he thinks other people should rent or buy. So if he ends up putting a movie you like in the "Skip it" section without having seen it, please keep in mind that the time you could spend leaving a spiteful but ultimately futile comment could instead be used for more pleasant things in life. Like buying DVDs.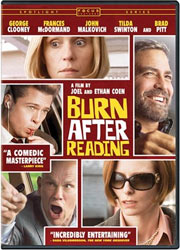 BURN AFTER READING
Coming hot off the heels of last year's celebrated masterpiece No Country for Old Men, the Coen brothers decided to play it smart by kicking things down a notch with something a little more fun. Burn After Reading is vintage Coen, throwing a mess of memorable characters into an outlandish plot (that's once again trigged by a desire for money) and is filled to the brim with hilarious dialogue and gags. It's also really dark, with some truly twisted sequences creating a jarring but welcome contrast against the more wacky comedic ones.
Blu-ray? Yes.Notable Extras: 3 featurettes ('Finding the Burn: The Making of Burn After Reading', 'DC Insiders Run Amuck', 'Welcome Back George').
BEST PRICE
Target
Best Buy
Circuit City
Fry's
$16.99
$19.99
Amazon – $16.99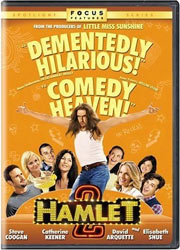 HAMLET 2
How much you like Hamlet 2 will depend a great deal on how much you like its lead actor, Steve Coogan. His performance is what carries the film, making all the mugging he has to do actually bearable. The movie itself is pretty funny as well, due in large part to its hilarious premise. It wasn't necessarily the surprise comedy of the year I was hoping for, but it provided enough laughs to make for a decent viewing or two.
Blu-ray? Yes.Notable Extras: Commentary with director Andrew Fleming and co-writer Pam Brady, deleted scenes, Making Number 2 features (Duty Calls, Part Deux), and an Oscar Winner vs. High School Drama Class feature.
BEST PRICE
Target
Best Buy
Circuit City
Fry's
$19.99
Amazon – $19.99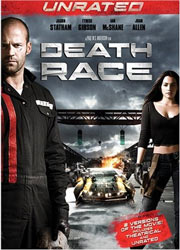 DEATH RACE
Exactly as stupid as you would expect a Paul W.S. Anderson production to be, Death Race doesn't waste time any more time on stuff like plot and character development than it has to, making room for what it really cares about: racing, mayhem and explosions. And in that regard, it completely delivers. As long as you know that going in, there's no reason you should be disappointed.
Blu-ray? Yes.Notable Extras: Commentary with director Paul W.S. Anderson and producer Jeremy Bolt and 2 featurettes ('Start Your Engines: Making a Death Race', 'Behind the Wheel: Dissecting the Stunts').
BEST PRICE
Target
Best Buy
Circuit City
Fry's
$20.99
$16.99
$14.99
$19.99
Amazon – $20.99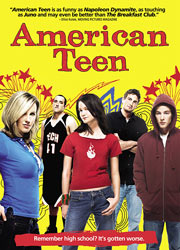 AMERICAN TEEN(Available only at Target)
American Teen was one of the most talked about documentaries on 2008, praised for its charmingly-presented look into the lives of a bunch of regular teenagers over the course of high school. So why is it that the only place you can buy it is Target? What the hell is that all about?
Blu-ray? No.Notable Extras: Cast interviews, deleted scenes, and Hannah Blogs.
BEST PRICE
Target
Best Buy
Circuit City
Fry's
$16.99
N/A
N/A
N/A
Amazon – N/A
Other noteworthy DVDs available this week...Savage Grace – WWE Edge – A Decade of Decadence

NOTE: Some deals may be in-store only.

$44.99 – Planet Earth$24.99 – John Adams$19.99 – Bourne Trilogy, Rocky: The Complete Saga$17.99 – Firefly (Complete Series)

Save 50% on all HBO series, in store and online...$89.99 – The Wire (Complete Series)$124.99 – Six Feet Under (Complete Series)$174.99 – The Sopranos (Complete Series)$16.99 – Entourage (Seasons 1 – 5)$32.99 – Band of Brothers$27.49 – Generation Kill, John Adams$13.49 – Flight of the Conchords (Season 1)$74.99 – Deadwood (Complete Series)$29.99 – Rome (Seasons 1 – 2)$17.49 – Curb Your Enthusiasm (Seasons 1 – 6)$99.99 – Sex and the City (Complete Series)$12.99 – Terminator: Sarah Connor Chronicles (Season 1)$16.99 – Angel (Seasons 1 – 5), Martin (Seasons 1 – 4), King of the Hill (Seasons 1 – 6), Friends (Seasons 1 – 10)$19.99 – My Name is Earl (Seasons 1 – 2), Futurama (Seasons 1 – 4), The Boondocks (Seasons 1 – 2), Seinfeld (Seasons 1 – 9), The West Wing (Seasons 1 – 7), Supernatural (Seasons 1 – 2), Babylon 5 (Seasons 1 – 5)$4.99 – Kiss Kiss Bang Bang, Spider-Man 2, The Fugitive, The Shawshank Redemption, Crash, The Color of Money, Fun with Dick and Jane, Proof of Life, Tin Cup, Swordfish, and more...

$3.99 – True Lies, Point Break, Aliens, Dude Where's My Car, Speed, The Ringer, Sideways, Men of Honor, Antwone Fisher, The Sandlot, The Family Stone, and more...