Question Of The Week: What Videogame Would Make A Good Movie Adaptation?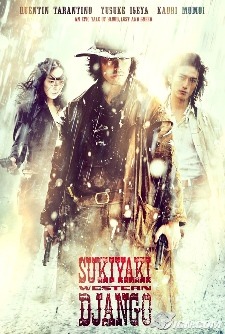 The Question of the Week is a (hopefully) weekly question for slashfilm.com readers that emerges from a discussion on the /Filmcast: After Dark. Feel free to post your answers to the question in the comments below. The best answers will be read on the air each week. And this week, for our inaugural question, the best answer will win a free copy of Takashi Miike's Sukiyaki Western Django in a steelbook case.
This week's question is: What videogame would make for a good film adaptation? Name the videogame and describe its plot (in at least a paragraph).
To enter, do the following:
1) Register for an Intensdebate Account, /Film's new commenting system. You can register below or do so by going to IntenseDebate. Make sure to use an e-mail address we can actually reach you at!2) Sign in to your account and leave your answer below in the comments. Bonus points will be given for creative videogame choices (e.g. describing a kickass movie based on "Tetris" will give you better odds of winning than describing a movie based on "Bioshock")
One last thing: This contest is only open to U.S. residents living in the contiguous United States. Sorry, international listeners! You are still welcome to leave your comments, and we will still read the best ones on the air, but we can't send you the DVD.
Thanks for playing! Tune in on Monday to Slashfilm's live page, as we read the best answers on the air and announce the winner. You can subscribe to the /Filmcast by using the following links: