The /Filmcast: After Dark - Ep. 25 (GUESTS: Katie Spence And Ben Brown)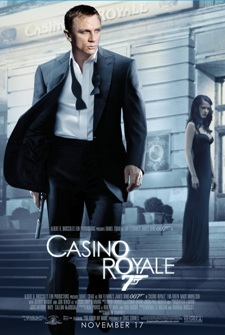 The /Filmcast: After Dark is a recording of what happens right after The /Filmcast is over, when the kids have gone to bed and the guys feel free to speak whatever is on their minds. In other words, it's the leftover and disorganized ramblings, mindfarts, and brain diarrhea from The /Filmcast, all in one convenient audio file. In this episode, David, Devindra, and Adam, discuss their memories of Bond and Casino Royale, reflect on the influence of Seth MacFarlane, and compare their geekiest moments of all time. Katie Spence and Ben Brown join us from Hooray Movies. Also, Peter Sciretta forces his way onto the podcast to warn about the upcoming desecration of a revered childhood film.
Your voicemails (781-583-1993) and e-mails are always welcome. Join us next Monday at 10 PM EST / 7 PM PST as we review Quantum of Solace with Adam Kempenaar from the Filmspotting podcast.
Download or Play Now:
Subscribe:
Topics Discussed
Casino Royale and James Bond
Your E-mails and Voicemails (781-583-1993)
Adam gets pwned by a listener, then pwns him back (kind of)
What's the geekiest thing you've ever done pursuing your passion for movies
The ending for Zack & Miri Make a Porno
Walter the Farting Dog
Some more good monologues/lines
Is Family Guy ruining TV?
Slumdog Millionaire
John Goodman