Page 2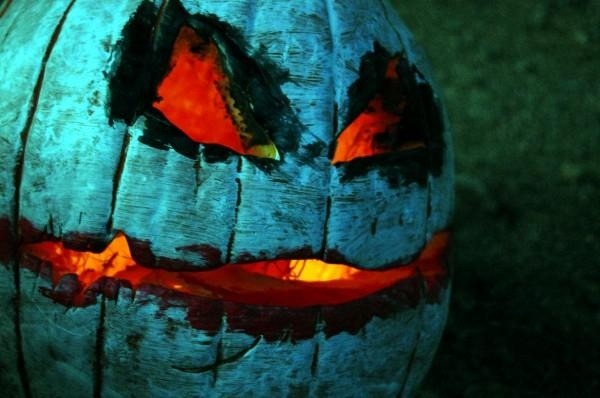 /Film reader Phillip L sent over a photo of his Jokerlantern.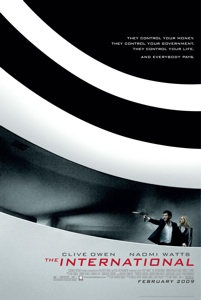 ComingSoon has a new poster for The International.
Neil Gaiman is producing a live-action adaptation of his new New York Times best-seller The Graveyard Book. [MTV]
Netflix will offer HD streaming to XBox Live members first. [/Gamer]
Adrien Brody will become The Courier for Russell Mulcahy. [FirstShowing]
Joaquin Phoenix might be retiring from movies. [E!]
JVC has announced that they will soon stop producing standalone VCRs. [Boingboing]
The most successful filmmaker in history is dead: Gerard Damiano, the guy who directed Deep Throat. [CHUD]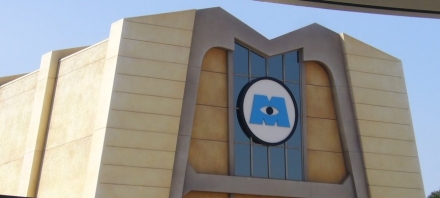 Disney and More has photos of new Monsters Inc building in Disneyland Tokyo.
The CW is planning a Melrose Place reboot. I'm guessing they're gonna call it "Melrose" or "The Place". [EW]
Miss Geeky lists her top five scary movies. Meanwhile Ropes of Silicon picks six scary flicks.
You can enter to win a trip to NY to see Soul Men and Amateur Night at the Apollo.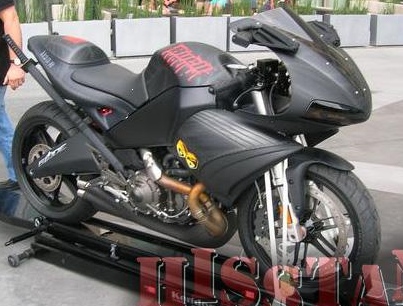 Hisstank has photos of what appears to be Snake Eye's Motorcycle in the upcoming live action movie GI Joe: Rise of Cobra.
A Utah theater chain refuses to screen Kevin Smith's Zack and Miri Make a Ponro. [tribune]
Jessica Simpson's new movie debuts at #1? Yeah, in Russia. [/gossip]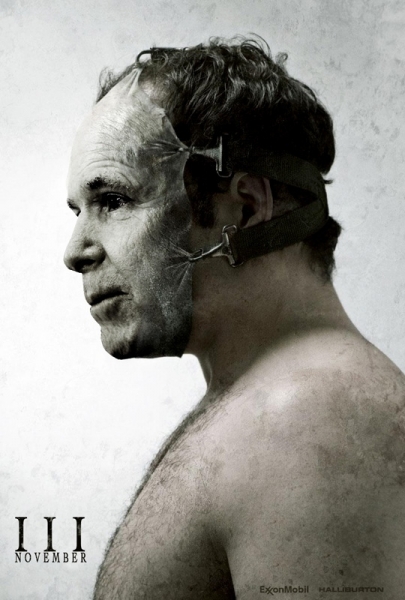 /Film reader Oscar sent over this SAW-inspired artwork featuring John McCain.
Jackson Rathbone tries to defend the Donnie Darko sequel S. Darko: "Look at the original Donnie Darko. When it was first released, did anybody like it? No, it was a year later. Through people talking, people got it. We're in an opposite boat, because people loved the first one after a while. Maybe they'll warm up to this, too. Or, they'll hate the idea of it, but once they see it, I think they're going to turn around. It takes the idea of the film and it goes beyond, answering and delving into more questions than Donnie Darko did. A lot of people are pissed that Richard Kelly is not involved, but he did sell the idea. He did give the license to do it. So it's not like he's opposed to it." [Shock]
Danny Elfman is developing a broadway show based on the life of Harry Houdini and he also might be doing a Cirque Du Soleil show at the Kodak Theater in Hollywood in 2010. [Collider]
The Playlist takes a look at the soundtrack for Kevin Smith's Zack and Miri Make a Porno.
Universal is giving Pride and Glory director Gavin O'Connor another chance, a Vince Vaughn comedy film called Sunny and 68. [Variety]
The Wackness hits DVD and Blu-Ray on January 6th 2009. [movieweb]
Japanese Prime Minister Taro Aso complains that he doesn't have enough time to read comic books: "It's hard to read comic books as my time is now restricted." [boingboing]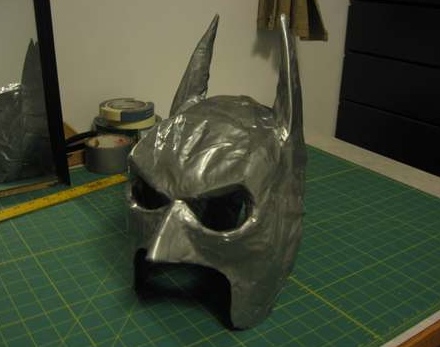 Someone made a Batman mask out of Duct Tape. Is there nothing Duct Tape can't do? [Gizmodo]
Drake & Josh filmed a holiday-themes tv movie titled Merry Christmas Drake & Josh. Check out the trailer on Perez.
LatinoReview has a look at the aborted script for Wall Street 2.Torontoist takes a look at how Troy Duffy recreated Boston in Toronto for The Boondock Saints.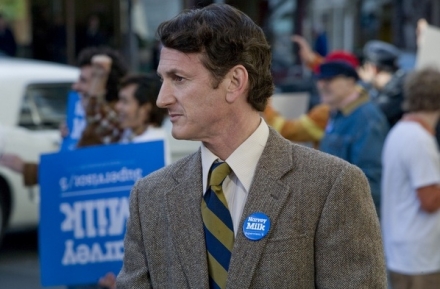 Cinema Blend has 26 new photos from Gus Van Sant's Milk.
Speaking of Gus Van Sant, he will be directing an adaptation of 1968 Tom Wolfe's book The Electric Kool-Aid Acid Test. [Reuters]
It's true. Rob Cohen is trying to get xXx: The Return of Xander Cage into production by late spring, for a Summer 2010 release. [collider]
Colin Firth, Julianne Moore and Matthew Goode will star in Tom Ford's directorial debut, an indie drama titled A Single Man. [Variety]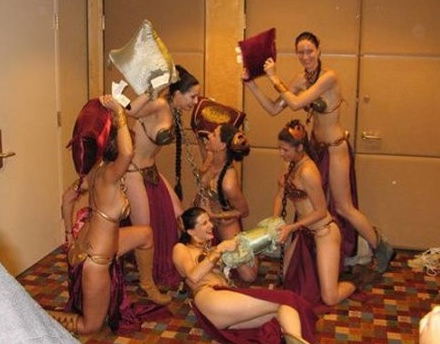 Found photo: A bunch of slave leias have a pillow fight. [toplessrobot]
SAW is now the highest grossing horror franchise of all time, beating out Nightmare on Elm Street and Friday the 13th. [Deadline]
Universal has preemptively bought Mike Sobel's disaster-action pitch Skyscraper. [CS]
Natalie Portman is set to star with Scott Cohen and Charlie Tahan in Love and Other Impossible Pursuits, a Don Roos-directed adaptation of an Ayelet Waldman novel. [Variety]
GreatWhiteSnark has a photo of the most incredible Millennium Falcon cake we've ever seen.
Exorcist director William Friedkin lists his must-see horror films. [EW]
Amy Adams will star in the indie drama Daughter of the Queen of Sheba, Karen Croner's script based on Jacki Lyden biography. [Variety]
To promote Anaconda 3 on DVD, Sci-Fi Channel has launched an online game called Snakes on a Babe featuring David Hasselhoff.