Friday Box Office: Max Payne Opens At #1, May Reach $18.5 Million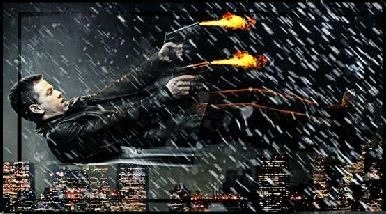 Max Payne (Fox) has successfully made the, often-times treacherous jump, from video game to the big screen grabbing an estimated $6.75M on its opening day. That will mean a likely $18.5M opening weekend, which is decent news for Mark Wahlberg and Fox.
I received advance word from a couple of reputable critics that Max Payne is not very good (one called it Max Payne-ful), and, as it turns out, Fox was smart to embargo reviews until today. The 16% Fresh score on Rotten Tomatoes does not bode well for word-of-mouth, but the movie will manage the 6th-best opening for a video game movie franchise and the all-time #9 opening for any video game adaptation.
ALL-TIME BEST OPENINGS FOR VIDEO GAME ADAPTATIONS
1. Lara Croft: Tomb Raider – $47.73M opening ($131.1M cume)
2. Pokeman: The First Movie – $31M opening ($85.7M cume)
3. Resident Evil: Extinction -$23.7M opening ($50.6M cume)
4. Mortal Kombat – $23.2M opening ($70.4M cume)
5. Resident Evil: Apocalypse – $23M opening ($51.2M cume)
6. Lara Croft Tomb Raider: The Cradle of Life – $21.7M opening ($65.6M cume)
7. Silent Hill – $20.1M opening ($46.9M cume)
8. Pokeman: The Movie 2000 – $19.5M opening ($43.7M cume)
9. Max Payne – $18.5M (estimated)
10. Resident Evil – $17.7M ($40.1M cume)
Competing studios project that with this 3-day start, Max Payne could reach a total domestic take of something in the $43M-$46M range, but given its healthy budget and Wahlberg's asking price, this does not have the feel of a franchise.
Overall, the artist formerly known as Marky Mark, has yet to solidify his reputation as a box office draw. The Departed, which seemed to be his breakout role earning him his first Academy Award nomination, led to 3 straight movies that have disappointed to varying degrees – Shooter ($14.5M opening – $47M cume), We Own the Night ($10.8M opening – $28.5M cume) and The Happening ($30.5M opening – $64.5M cume). Max Payne represents Wahlberg's all-time 6th-best opening.
ALL-TIME BEST OPENINGS FOR MARK WAHLBERG
1. Planet of the Apes – $68.5M opening ($180M cume)
2. The Perfect Storm – $41.3M opening ($182.6M cume)
3. The Happening – $30.5M opening ($64.5M cume)
4. The Departed – $26.8M opening ($132.3M cume)
5. Four Brothers – $21.1M opening ($74.5M cume)
6. Max Payne – $19.57M (estimated)
7. The Italian Job – $19.4M opening ($106.1M cume)
8. Invincible – $17M opening ($57.8M cume)
9. Three Kings – $15.8M opening ($60.6M cume)
10. Shooter – $14.5M opening ($47M cume)
This one seems to be a step in the right direction, although, in my opinion, he would be smart to choose some lighter material. After his quirky role in The Departed, he has followed with a string of very grim movies. Just because he is a serious actor, it does not mean he must stick with purely serious movies. For my money, his best performance is still Dirk Diggler in Boogie Nights, which allowed him to have some fun.
Much to the chagrin of guardians of the Bush legacy, Oliver Stone has scored a nice little hit wit his W. (Lionsgate), opening with about 2,000 playdates. With Barbra Streisand's son-in-law Josh in the titular role, the pseudo-biopic has grabbed an estimated $4.3M on opening day, and that should translate to a solid $12.9M for the 3-day.
Liberals say that Stone's portrait of "43" is too sympathetic. Conservatives consider it rude liberal propaganda. I think it is a fascinating film experiment. A movie about a wildly unpopular sitting President with some of the very best actors playing out the lowlights and blunders of the past 8 years while a fierce, partisan battle for the Presidency is being waged swing stat-by-swing state?
Leave it to Oliver Stone who, love him or hate him, has a knack for tapping into the zeitgeist of the moment. Watching his 1987 classic Wall Street in the context of 2008's financial meltdown is almost surreal. Everything that Gordon Gekko celebrated has essentially led to the demise of some of the most important institutions in America. That's the magic of Stone.
This "film experiment" is not, however, without precedent. A decade ago, Mike Nichols directed Primary Colors starring John Travolta as President William Jefferson Clinton and Emma Thompson as Hillary. Based on the "novel" by Anonymous (who we later found out was then-Newsweek political writer Joe Klein) and adapted by Elaine May, there was a lot of truth in the so-called fictional movie. Now along comes a so-called biographical film filled with, depending on who you talk to, a lot of fiction. Primary Colors opened with a nearly identical $12M and went on to gross $39M domestic. I suspect that W. will do slightly better reaching the $41M-$44M range, and a Golden Globe and Oscar nomination for Josh Brolin could drive it to $50M.
Beverly Hills Chihuahua (Disney) added another $3.2M on Friday (#4 for the day), and with its usual massive weekend matinee performances, it will surge to an impressive 3rd place finish in its 3rd weekend. It will be neck-and-neck with W., but I think it will lose by a whisker with an estimated $12.8M (although the battle for #2 could reasonably go either way).
The film adaptation of the 1960's era Sue Monk Kidd bestselling novel The Secret Life of Bees (Fox Searchlight) is the biggest surprise of the weekend. This "chick flick" is working in a big way coaxing $4M in opening day sales, and it will buzz to about $12.4M. With only 1,600 or so screens, this generally well-reviewed film will reach a nearly $7,800 Per Theatre Average.
The news is disastrous for Summit's Judd Apatow-style R-rated comedy Sex Drive. Without any real star power, unless you count James Marsden (X-Men, Hairspray) and Seth Green (Austin Powers, Without a Paddle), Sex Drive had a limp Friday of $1.1 and it will sputter to a mere $3M by Monday morning.
EXCLUSIVE FANTASY MOGULS EARLY FRIDAY ESTIMATES
1. NEW – Max Payne (Fox) – $6.75M, $1,999 PTA, $6.75M cume
2. NEW – W. (Lionsgate) – $4.3M, $2,118 PTA, $4.3M cume
3. NEW – The Secret Life of Bees (Fox Searchlight) – $4M,  $2,514 PTA, $4M cume
4. Beverly Hills Chihuahua (Disney) – $3.2M, $988 PTA, $61.06M cume
5. Body of Lies (Warner Bros) – $2.37M, $873 PTA, $19.97M cume
6. Eagle Eye (Dreamworks/Paramount) – $2.2M, $661 PTA, $76.19M cume
7. Quarantine (Sony) – $2M, $812 PTA, $20.38M cume
8. Nick & Norah's Infinite Playlist (Sony) – $1.18M, $464 PTA, $24M cume
9. NEW – Sex Drive (Summit) – $1.1M, $454 PTA, $1.1M cume
10. The Express (Universal) – $875,000, $311 PTA, $6.9M cume
11. Nights in Rodanthe (Warner Bros) – $850,000, $402 PTA, $35.06M cume
12. Fireproof (IDP Films/Samuel Goldwyn) – $750,000, $829 PTA, $18.8M
13. Apaloosa (Warner Bros) – $690,000, $545 PTA, $12.9M
14. The Duchess (Paramount Vantage) – $685,000, $568 PTA, $7.7M cume
15. Religulous (Lionsgate) – $455,000, $843 PTA, $8.07M cume
16. City of Ember (Fox) – $445,000, $220 PTA, $4.64M cume
EXCLUSIVE FANTASY MOGULS EARLY 3-DAY ESTIMATES
1. NEW – Max Payne (Fox) – $18.5M, $5,480 PTA, $18.5M cume
2. NEW – W. (Lionsgate) – $12.9M, $6,355 PTA, $12.9M cume
3. Beverly Hills Chihuahua (Disney) – $12.8M, $3,952 PTA, $70.66M cume
4. NEW – The Secret Life of Bees (Fox Searchlight) – $12.4M,  $7,794 PTA, $12.4M cume
5. Body of Lies (Warner Bros) – $7.46M, $2.751 PTA, $25.06M cume
6. Eagle Eye (Dreamworks/Paramount) – $7.41M, $2,229 PTA, $81.4M cume
7. Quarantine (Sony) – $5.7M, $2,314 PTA, $24.08M cume
8. Nick & Norah's Infinite Playlist (Sony) – $3.55M, $1,584 PTA, $26.35M cume
9. NEW – Sex Drive (Summit) – $3M, $1,239 PTA,  $3M cume
10. The Express (Universal) – $2.84M, $1,012 PTA, $8.86M cume
11. Nights in Rodanthe (Warner Bros) – $2.76M, $1,306 PTA, $36.97M cume
12. Fireproof (IDP Films/Samuel Goldwyn) – $2.43M, $2,693 PTA, $20.48M
13. The Duchess (Paramount Vantage) – $2.32M, $1,930 PTA, $9.33M cume
14. Apaloosa (Warner Bros) – $2.31M, $1,827 PTA, $14.6M
15. Religulous (Lionsgate) – $1.63M, $3,033 PTA, $9.26M cume
16. City of Ember (Fox) – $1.51M, $748 PTA, $5.7M cume