Watchmen: Test Screening In Portland And New Footage At Scream 2008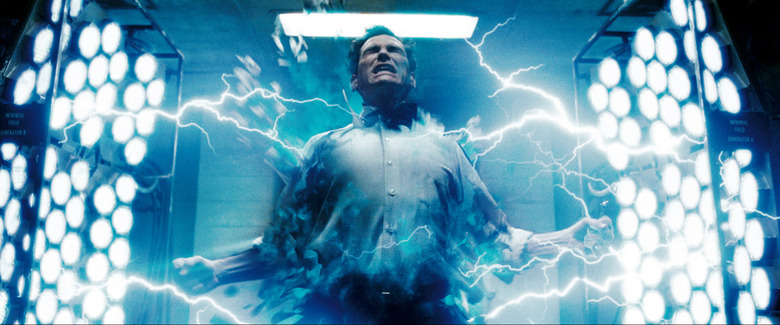 Collider is reporting that Warner Bros is doing a test screening of Watchmen at the Regal Lloyd Center 10 Theater in Portland Oregon this Thursday, October 16th at 7:00pm. Apparently this is a "blind screening" so they are recruiting people who don't know anything about the comic book world. So if you run into one of the recruiters, play dumb, and pretend to like Wild Hogs and Beverly Hills Chihuahua
If you're not lucky enough to talk your way into the screening, check out Spike TV on Tuesday October 21st at 9:00pm for the SCREAM 2008 awards. Warner Bros will premiere exclusive footage from the Zack Snyder adaptation, as well as the upcoming Friday the 13th reboot. Check out the full press release after the jump.
Spike TV has announced that it will honor film star Anthony Hopkins with the first-ever Legend award during "SCREAM 2008." Presented to a distinguished and legendary artist whose body of work includes outstanding performances in fantasy, horror and/or science fiction films, the Legend award will mark the third discretionary honor of the evening, as fellow industry giants Tim Burton and Wes Craven will also receive recognition. The third annual televised event tapes Saturday, October 18 at The Greek Theater in Los Angeles, CA and premieres Tuesday, October 21 (9:00-11:00 PM, ET/PT) on Spike TV.
Additionally, Spike TV has announced fresh talent added to this year's star-studded roster. Appearing at "SCREAM 2008" will be Malin Akerman, Selma Blair, Jon Favreau, Michael C. Hall and the cast of "Dexter," Milla Jovovich, Jaime King, Frank Miller and Paz Vega, along with previously announced talent Kristen Bell, Julie Benz, Darren Lynn Bousman, Thomas Dekker, Guillermo Del Toro, Summer Glau, Samuel L. Jackson, Doug Jones, Kerli, Stan Lee, The Osbournes, Jared Padelecki, Ron Perlman, Amanda Righetti, Seth Rogen, Paul Rudd, Seann William Scott, Kevin Smith, Liv Tyler, Gerard Way and Rob Zombie. Many more to be announced shortly.
The Grammy Award-winning rock band Smashing Pumpkins will perform their new hit "G.L.O.W.." Currently the #1 most added song at Modern Rock Radio, "G.L.O.W.," has already received ninety-four adds since its release two weeks ago and has logged over 850 spins in its first week alone. Their performance on the show precedes the October 31 launch of their North American "20th Anniversary Tour."
Also taking the stage is Island Records pop sensation Kerli, performing her highly successful single "Walking On Air." The song, from her debut album "Love Is Dead," is the most downloaded single in history on iTunes. Kerli is featured as XBOX 360's Emerging Artist of the Month for November and she also wrote and performed the title track for Activision's upcoming 007 Bond video game, released simultaneously with the new 007 movie starring Daniel Craig.
"SCREAM 2008" will feature exclusive world premiere footage from two of Warner Brothers' most highly anticipated releases of the coming year – "Watchmen" and "Friday The 13th." Based on the graphic novel by DC Comics, "Watchmen" is set in an alternate 1985 America in which costumed superheroes are part of the fabric of everyday society and the "Doomsday Clock" – which charts the USA's tension with the Soviet Union – is permanently set at five minutes to midnight. Directed by Zack Snyder the complex, multi-layered mystery adventure stars Jeffrey Dean Morgan, Patrick Wilson and Malin Akerman. "Watchmen" hits theaters March 6.
"Friday The 13th" comes to "SCREAM" this year as Spike TV will premiere footage of the updated cult classic in theaters Friday, February 13. Directed by Marcus Nispel ("Pathfinder") and starring television star Jared Padalecki ("Supernatural"), Jason will once again haunt the cursed campgrounds of Crystal Lake, but this time, hockey-masked Jason is the real killer.
Fan voting for this year's awards began Friday, September 12 and remains open until Friday, October 17. To vote or to view exclusive red carpet and backstage coverage, visit Scream.Spike.com.
Michael Levitt, Casey Patterson and Cindy Levitt serve as executive producers for "SCREAM 2008." Greg Sills is supervising producer, Gary Tellalian and Austin Reading are producers and Ryan Polito will direct.