TIFF Review: Spike Lee's Miracle At St. Anna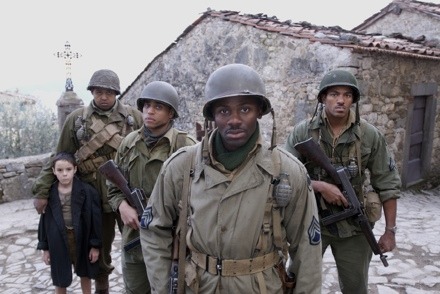 Spike Lee's Miracle At St. Anna is definitely not the type of movie you want to see tired, in the early morning hours. But that was my experience. I've seen many World War II films over the years, and Anna is distinctly a Spike Lee Joint. It has the obvious race perspective war story you expect, mix one part combined murder mystery (which is used as a framing device), and the obtrusive bass-y grandiose score (ala Inside Man).
If you've seen the trailer then you know that it all begins with a random murder at the post office, with a teller who kills a customer with a German Luger. Joseph Gordon Levitt plays an eager fast talking reporter, who along with a murder detective (John Turturro), wants to get to the bottom of the mystery. Burried in the teller's closet is the head of a 450 year old statue, which has been lost since WWII and said to be worth more than $5 million if sold on the black market. And that's just where the story begins. We flash back to 1944, and we are told the story of four black Buffalo soldiers (Derek Luke, Michael Ealy, Laz Alonso, Omar Benson Miller) who are led to slaughter by a newly appointed dimwitted Caucasian leader (of course).
They come across a slightly traumatized 9-year-old Italian boy named Angelo, who has been hiding in a barn during an attack. He talks to an imaginary friend and bonds with one of the soldiers, who he calls "the chocolate giant". They bring the sick child to a nearby Italian village, where they are taken in by an Italian family. I won't go much further because you must experience the rest of the story yourself.
The film drags greatly at 166 minutes, and some of the race discrimination scenes seemed forced, out of place, and sometime dispensable (for example one flashback which shows the group being told to leave an Ice Cream parlor), even if they might be historically accurate. The action sequences are both gritty and violent, everything you expect from a post-Private Ryan war film. But it is the smaller character moments which make up Anna's strength. I think I need to see the film again outside of the film festival, hopefully later in the day when I've had more rest. I'm going to reserve giving my usual /film rating until then.