Cher As Catwoman?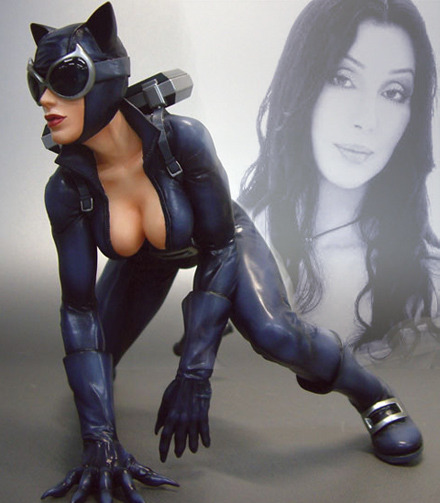 And The Dark Knight sequel gossip continues. Could Cher be in line to play Catwoman in the next Batman installment? The British newspaper The Telegraph is citing a "studio executive" source, claiming that Cher us "Nolan's first choice" for the role.
"He wants to her to portray her like a vamp in her twilight years," says the Telegraph's source. "The new Catwoman will be the absolute opposite of Michelle Pfeiffer and Halle Berry's purring creations."
While I agree that Catwoman should be given a Nolanverse-style reboot, if she were to make an appearance in the next Batman film, Cher seems like a strange choice even considering Nolan's history. Of course, The Telegraph is known for it's gossipy/tabloid like reports, and unless an actual source is clearly identified, I wouldn't bet 25 cents on a story like this one. But let us pretend for a second that this rumor is true: I would expect a heavy fan backlash over the casting choice. Not that Nolan hasn't encountered adverse reaction in his past decisions. From what I remember, when the casting announcement was first made, most fans hated the idea of Heath Ledger as The Joker.
Discuss: What do you think about the slight possibility of Cher playing The Catwoman in Nolan's third Batman film?
Who even knows if Catwoman will be a featured villain in the third film. Here is what We Know So Far: